My May workouts were pretty awesome, I must say. Some stats:
I ran 51.25 miles, bringing my 345-in-2011 goal to 180.35 miles logged - over halfway there!


I biked an incredible 104.5 miles - the most so far! Every month it seems I increase by 10-15 miles, so my goal for June is to finally hit the Ironman biking distance of 111.85 miles.


I swam once - not great, but I made my goal for May. I logged 0.62 miles, which is more than a sprint triathlon's swimming distance. I want to swim more, and now that it's hotter out, I think I will be more inspired.


I only did ten minutes of weights! The least of every month so far. Gotta work on this.


I burned 8075 calories on the elliptical - I have been using it less intensely than I used to, with most workouts being 750-1000 calories burned instead of 1000-1200.


The Wii ... let's not go there. Once I start using it, I remember that I love it, but it's so hard to motivate. I wish I could say it was because I'm out enjoying the nice weather, but there were a lot of rainy yucky days where I could've squeezed in a little Wii time. I think it may be a mental thing, and breaking it up into 20 minutes at a time might help. I usually put it off and do an hour on Sunday night if I do it at all for my SFC goal. I don't always want to do an hour, but 15-20 minutes a few times a week is feasible!
I had six complete rest days (two of which were my trip to Connecticut), but most of them weren't real rest days at all - as in, I walked 7-10 miles each day while running errands/adventuring. One day I slept about fifteen hours, though! It was fantastic.
Most of my running was outdoors and even though I struggled through a lot of it, it was so nice to actually move forward and not just in place. The difficulty wasn't with the running itself, but with adjusting to the weather. It's been really strange here in Chicago, either very cold and rainy or hot and humid - 40º one day and 88º the next. I can run just fine in the cold, and even in a dry heat, but the humidity kills me. So most of my runs have been 3-5 miles of intervals, usually 2-2.5 miles and then .5 or 1 mile increments alternating with walking a little.
I realized that one of the big problems was with hydration - I need to remember that this is not last summer, I am actually going out and doing things in the heat, and I need to make sure I am drinking enough water. Yesterday I had five 32-oz. bottles! Hopefully that helps me this morning - I need to do my last long run before my 10k race on Sunday, and I'm aiming for 6 miles. I've done 6 before, but not in a couple of weeks, and my last non-interval long run was only 5 miles. By the time this post goes live, I'll be on the path and running - another issue may be trying to run during the day; my upcoming races start at 8:20am and 7:15pm, so the temperatures will be slightly cooler and hopefully the sun won't be as harsh.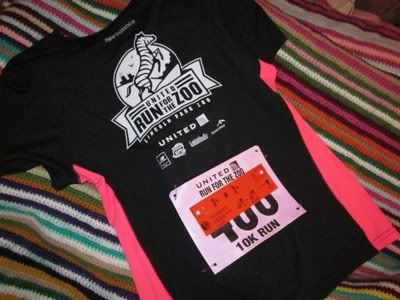 In terms of clothing, I am finally comfortably wearing the size 12 jeans (had to wait for the muffin top to be less pronounced), but pretty much all of my shirts are baggy. I've been scouring my favorite local thrift stores for plain tees - for 99 cents, they can't be beat ... plus they always have sales, too, so I usually get them for 25-75 cents each! I have replaced all my shirts about every three months, so I'm due for those; the jeans used to be monthly, but now have slowed to bi-monthly (which I am a little grateful for, at least in terms of having one less expense in my budget).
For June, I have a few goals related to my usual workouts: kick butt in my 10k, make the Ironman distance for biking, more weights/swimming/Wii. But I'd also like to look into some ab workouts - with the past ten pounds or so, my loose skin seems to have gotten a lot worse. It isn't bad, I don't think - it's generally concentrated in one area, it certainly doesn't look like 140+ pounds of weight loss, and it's a very small price to pay for not being miserable and restricted like I was this time last year. Still, though, I'd like to try and do whatever I can to help it.
What about you?
What are your workout goals for June? Do you do any body-part-specific toning exercises? (If so, where do you find them? Magazines? Websites? Blogs? I have no clue where to start.)