This is the only week of nothingness between the end of the Spring Fever Challenge and the beginning of summer's Beat The Heat Challenge, so a little update on my
summer bucket list
.
I haven't done too much just yet: I've been running and biking, but June will certainly not be my Ironman month. I lost my inspiration for a painting I started a couple weeks ago. I found some cute owl stickers, so I'll be writing a letter to my sister Lisa this week (she's owl-obsessed).
The best thing I accomplished this past week? Working towards my sub-30 5k. I did a medium-long run down by the lake the other night - 5 miles. It was an oddly chilly day - chilly enough that I wore one of my long-sleeve tech shirts! But it was perfect for running, and I could feel that it was going really well. I was totally loving life and feeling fantastic, and just ran the heck out of those paths. The results?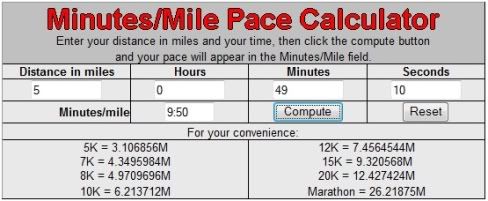 Holy smokes! A sub-10 minute mile pace?! Incredible. I could feel that the third mile was pretty slow but the first and fifth were fast enough that it evened out like this. I timed the last half-mile alone and it was 4:36 - unbelievable, really. I think it may have been a fluke - I'm not sure I could replicate this, at least not right away. I was definitely riding on the adrenaline high of a good morning that day, and it pushed me faster than I've ever gone before. We'll see what my next long run has in store for me.
I need a 9:39 pace to finish a 5k in under half an hour, so there's still much work to be done, but I'm certainly very optimistic about the sub-30 5k goal. This was nearly two miles longer than a 5k race will be - a shorter distance means I could push myself a little harder for speed.
I have an 8k coming up on the 14th, but no other races scheduled. So I need to register for a 5k soon and get some practice on a timed course!
What about you?
What are your summer goals? What have you worked on this past week that you're proud of?