My positive picture for the week:
I went to a lecture on Friday night and instead of taking two buses home, I walked the 1.75 miles to the second bus stop. While I was walking, I noticed a couple of these messages painted on the ground.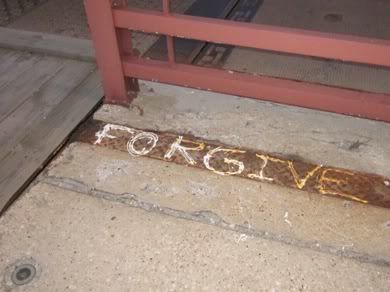 What have you done this past week to help achieve your goals?
(1) I weighed in on Friday at 200 pounds even, but the scale has jumped up somewhat incredibly since then, and I'm not entirely sure why. We'll see where this Friday has me. I'm going to keep working hard - I definitely want to complete this goal by the end of the challenge!
(2) With regards to this weekend's bizarre scale jump: I'm trying not to let it rule my emotions. I eat well and I work out and I drink lots of water - I'm stressed, but life is generally good, and I'm not going to let the number on the scale devalue all the hard work I have done so far and plan on continuing to do. Full post on that Wednesday with my 10k race recap.
(3) Slow week for biking - logged 12.5 miles, for a challenge total of 195 miles (or 88.6% of my goal).
(5) Completed another thing of my 101-in-1001 list - #4, Run a 10k. My original goal was to complete 3 things off my list during this challenge - so far, I've done 7!
What did you do this past week to make you feel good about yourself?
I started reading another Geneen Roth book, "Breaking Free from Emotional Eating." I had picked it up with "Women Food and God" when one of the local Borders stores was closing. I made it a full six pages before I started to cry! I absolutely love her work. Self-reflection and emotional weight loss are so important, and reading these texts and sobbing with understanding and recognition makes me feel so good - totally light and unburdened.
With two full weeks left in the challenge, what goals are you making your priority?
Definitely onederland! I also have three more New Things to try - gotta get on that! I'm okay with letting the Wii goal fall by the wayside a bit in favor of these other two.
Summer is just around the corner, in which season do you find it the easiest to accomplish goals?
This is still my first year being a go-getter, so I've never had an active summer to compare this one too. Autumn was great for me, nice weather and tons of motivation. Spring was the toughest - it was a little cold and there were a few struggles. But looking back over all of it, I can't say that any season let me down, so I'm pleased.
What do you miss most about being a kid?
Right now, I'd say not having to worry about working and adult responsibilities like paying the bills. But that's current-situation-specific. In general, I miss reading so much. I was an insatiable reader as a kid - anything with words that I could get my hands on, I'd read, from novels to textbooks to magazines. I have been reading more lately because the library is free entertainment, and it makes me miss being a little kid, sitting in my wicker chair in the backyard for hours, soaking up every word on every page.