My positive picture for the week:
I recently found this old picture of me.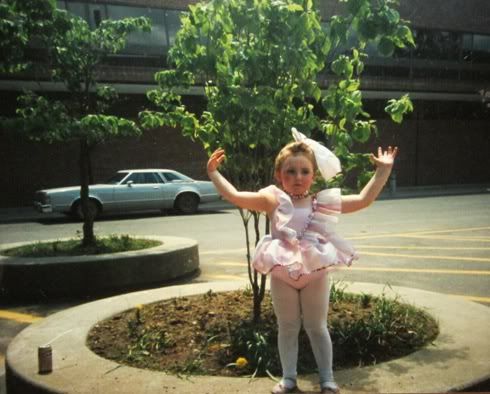 I must be 3 or 4 here. Did ballet and tap - this was from my first recital. Too cute!
What have you done this past week to help you achieve your goals?
(1) I did it! Weighed in Friday at 199 pounds.
(3) I biked 10 miles, for a challenge total of 205 miles (or 93.2% of my goal).
(5) I completed goal #46 (Go on my first second date).
(7) Got a few more rejection letters, applied for a few more jobs. *sigh* It feels a lot like treading water these days.
What did you do this past week to make you feel good about yourself?
I am trying to be really good with money these days, but my dad sent me some money as a surprise. I put most of it in my savings and spent $13 of it on the cutest little sundress that was on clearance at Target! I hope it gets warmer out again soon so I can actually wear it!
With one week left, what is your plan?
Just keep on keepin' on, I guess. I have 15 miles to bike, a few plans for my New Things, and every day I actively work on my plan for what steps I'm taking next professionally.
What time of day are you most productive?
I think that all depends on what's being done. I try and keep busy all day, but for me, some times work better for certain activities than others. Workouts, I'm best at night. Blogging, after that. Reading and applying for jobs, first thing in the morning. Errands, midday. Chores around the house, it varies - dishes in the morning, laundry at night.
Are you reading a book right now? If so, share! If not, what was the last good book you read?
I'm working on "Breaking Free from Emotional Eating" by Geneen Roth. So, so, so, so good. And it's just what I need right now, because the job stress is making me increasingly anxious, and I'm fighting my urges to binge eat tooth and nail.