Long story short, I'm down four pounds this week, for a total of 145 pounds lost and bringing my current weight to an even 200.
Long story very long, I'm content with the loss but feeling a little challenged overall. In the end of March, I started tracking my food and my weight daily. I used to just eat and mentally take note of how I was doing, but knowing that I was about to hit a bit of emotional turbulence, I wanted an extra level of accountability. When I start to fixate on and obsess over numbers, though, I struggle, and I'm willing to say that even though that can't be blamed entirely for my recent overeating, it can't be helping it. I can't give up daily weighing right now, but I might stop tracking numerically - still writing down what I eat, but not breaking out a calculator every time I sit down for dinner.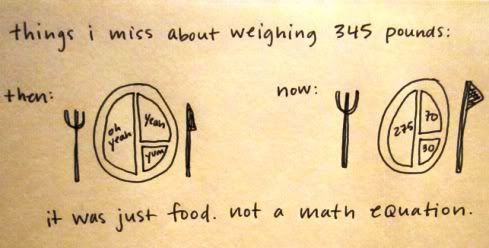 I would say that the numbers have been the only tough thing about the plant-strong eating challenge. There's a bit of an odd mental component to this challenge for me. I know I am eating well - all plants and whole grains - but I never feel full. For example: I made gluten-free organic brown rice pasta the other day, and after eating a bowl of it, my stomach didn't feel heavy like it usually does after eating pasta. Maybe it's because I had one serving (as opposed to the past when four boxes of mac 'n' cheese were an afternoon snack), but still, it was weird. I didn't feel hungry anymore, but I also didn't have the feeling that I've used for so long to identify
okay, you're done now, you're satisfied.
I don't miss the taste of meat, I just miss the feeling of eating it, if that makes sense.
I really like the clean plant-based eating, and I'd like to continue to eat this way even after the end of the challenge, but it's going to take some planning on my part. It's hard for me to eat only three times a day, especially when I'm stressed. What I may end up doing is pre-making my day's bigger meals and having them in two servings - so instead of a 500 calorie dinner at 6pm, for example, I'd have 250 calories of it at 5 and the rest at 7. I don't know, I'll have to try a few things and figure out what works for me.
It's funny, though: before I started writing everything down, I had only one binge in six months -
in mid-February
when my dad had his second heart attack.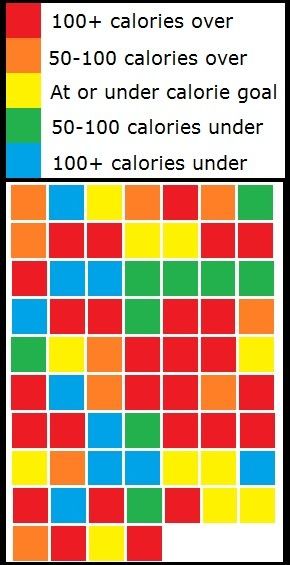 I started tracking in the end of March, and since then, my eating has been on and off. This map includes
my namecalling binge
, my mom's visit, the end of the semester, and my first month of unemployment. Overall, I'm not really pleased with my eating. I defined my calorie goal as being between 1250 and 1350, and since some of those red days were 1450-1500 and others 2000+, judging with a gradient scale of only five possibilities is a little tough.
I've managed to lose weight still (and to stay on-plan while following the Engine 2 challenge guidelines), but not much, and only because I've had to work out extra hard to balance out the snacking. A small positive, though: I noticed that after serious overeating (2000+ calories), I am almost always under my calories for at least a day afterwards - balancing myself out, I guess. My stomach knows what's best for me a little better than my brain does.
As for the daily weigh-ins: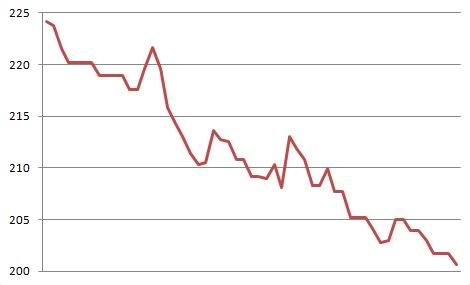 Lots of fluctuation. It reminds me of a readout from an EKG machine, somewhat appropriate considering that my heart has likely been racing more these past few months than ever before.
I'm an anxious mess, panicking about so many different things in my life right now. I never heard back from the school I interviewed with last week - nor have I heard back from any of the two dozen other jobs I have applied for, either. I look for jobs in other cities, then have trouble breathing because I realize I probably can't even afford to move. I'm smart, hard-working, motivated, organized ... so why doesn't anyone want to hire me? The problem intensifies when I start to take it all personally - in my panic, I forget that just because I'm not
the right person
doesn't mean I'm not
a good person
.
For jobs, I'm trying my best to believe that everything will work out like it is supposed to. As much as I dread the idea of asking for help, my parents offer it endlessly, so at the very least, I will not end up homeless. Becoming another statistic of the boomerang generation isn't ideal, but it's important to keep in mind that I'm lucky that it's even an option.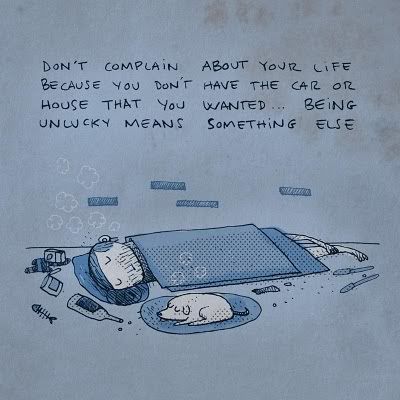 For weight loss, I'm trying to focus on the bigger picture, the results of my official weekly weigh-ins instead of the daily ones, because I really am doing a good job in the grand scheme of things, even if it doesn't always feel like it on the micro level.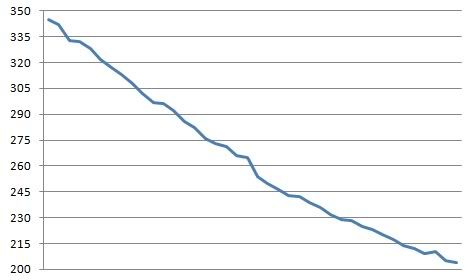 A few weeks of small losses, one one-pound gain, and overall steady loss for ten months - not to mention dozens of incredible non-scale victories that I can't overlook just because I've hit a rough patch. There will always be tough times in life whether I'm trying to lose weight or not, and the best I can do is to stay strong and keep moving forward, even if I'm going against the current.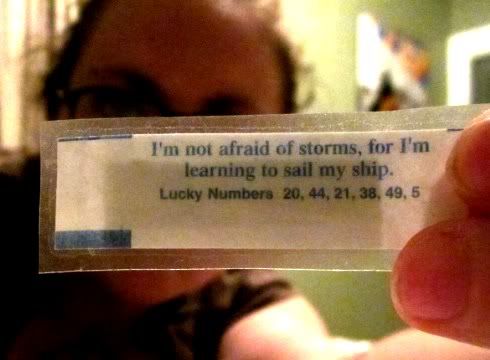 What about you?
Do you track your food intake? If so, what notes do you take - just the foods themselves, calories, fat, etc.? What's your go-to 150-calories-or-fewer food for when the urge to snack hits?