At the risk of sounding vain, I'm going to make a bold statement: I'm seriously in love with my legs.
They're amazing. These things carried me at my biggest - across the stage at my Masters program commencement ceremony, down the streets of Paris more than once - and now, slightly less burdened, they support me across finish lines. They curve with muscle definition in an amazingly sexy way, chiseled out by hour after hour of work on the elliptical machine and mile after mile of running on the treadmills and lakeshore paths. There's an odd tan line from my running pants and some trouble areas still on the inner thigh, but really, that's so trivial.
I was laying in bed the other morning doing one of my morning rituals: I always flex the muscles in my legs and feel them. It started by chance one morning maybe six months ago, and I was amazed that I could feel muscles at all. So now every day, I check them out. And the other morning, I could feel something new popping up - a new curve on my outer upper thigh. It was incredibly exciting, and I was quite happy.
Until I started my other morning ritual ... the one where I shed every stitch of clothing on my body and step on the scale.
For the past few weeks, the scale has fluctuated within the same three or four pounds. The lowest I've seen is one day last week at 196, but most days (and my official weigh-ins) have been 198-199. I'm not letting it ruin my mood these days - I can feel that my body is changing, going through something new; I know I'm eating well and staying active, so I can't possibly be upset. Frustrated, yes. But not upset.
I know I've been eating more lately - but not excessively, and not junk. I set 1200-1300 as a calorie goal daily, but lately I find myself needing more - like 1400-1500. I know the difference between a mindless craving and true hunger - and when I get a headache and my stomach is grumbling and my fifth 32-oz. bottle of water doesn't make it all stop, I need to feed myself. So I have some fruit or pick at veggies from the fridge, and it goes away. Too much of even a good thing can be a bad thing, I know. But again, it hasn't felt excessive - just enough to make the growling noises stop.
I haven't had a real plateau in eleven months - I've had weeks with small losses, but I usually come back in a big way the next week. In the beginning, the pounds melted off - 4-6 pound losses every week! - and they eventually slowed to smaller losses. The weeks where I lost less were always understandable - I knew I ate too much and/or didn't exercise enough, and the results of my weigh-ins reflected that. So to have the scale refusing to budge beyond one or two pounds these days despite hitting the gym hard and running like a fiend? Frustrating.
I'm going to just ride this out - I know it can't last forever - but the hard part is just making sure I harness my frustration. It's okay to not be happy about slow/halted loss - but it's NOT okay to use it as an excuse to eat garbage.
As long as the scale isn't moving down, let's make sure it moves at all - up, up, and away!
No way. I know I'm still working hard and the numbers will fall again - and I know *something* is happening even if the scale isn't reflecting it. My shirts are all too big and I'm running faster, just to name a few changes.
And the legs - don't forget the legs!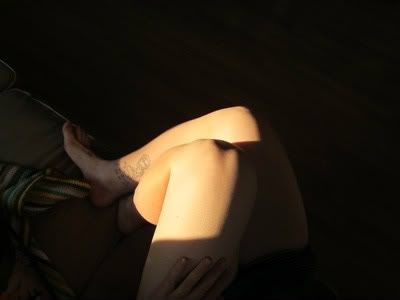 What about you?
Have you ever experienced a plateau? How long does one typically last for you? How do you push through it?