Today is the last day of my 28 day plant-strong eating challenge - I can't believe it's been practically a month already! Last week we had our last class, on how to stock a plant-strong pantry.
The thing about eating mostly plants is that you cannot be afraid of using your kitchen. Eating out all the time is do-able, but can be tough - as
Sarah
found out this past week while away on a business trip. A lot of restaurants have veggie options, but they might not be oil-free (which is one of the rules of our challenge). A common vegetarian/vegan complaint is being limited to ordering off side dish menus and making their own meal - which can be delicious, I'm sure, but at that point, I'd rather cook something fantastic for myself at home.
With plant-based eating, you'll need to shop at least once a week for fresh produce and things like whole-grain breads. But you can also do a big shop once a month for pantry staples, and it won't necessarily cost you a fortune. Some plant-strong items to keep on hand:
dried beans (pinto, white, black, and lentils)
whole grains (quinoa, pearled barley, long-grain brown rice)
whole-wheat pasta
rolled and/or steel-cut oats
no-salt-added canned beans and/or diced tomatoes
unsweetened soy and/or almond milk
tahini
peanut butter
dried fruit (apricots, dates, and raisins)
Dijon mustard
A little goes a long way with many of these, and they can all be used in so many different ways. Quinoa could be a dinner with roasted vegetables - or a breakfast with fresh fruit. Peanut butter could be mixed in with oatmeal for breakfast - or with spices and veggies for a sweet/savory Thai-style pasta sauce. The beans could be mixed in with rice, corn, and avocado for a Mexican-style dinner bowl, or mashed up with chopped peppers and formed into patties and baked for homemade veggie burgers.
I'm feeling really great after having done this challenge. Besides an odd craving here and there (eggs, more than anything), I really don't miss eating meat, and I plan on continuing to eat this way as much as possible. Because I didn't want to get stuck in the habit of eating the same thing every day, I tried as many new recipes as I could. And after a while, you start to recognize what things go well together and you can improvise - which I think happens no matter what ingredients you're cooking with, meat or plants or whatever have you, but still, it's been fun and delicious.
Some great veggie recipe resources I've come across on this challenge:
Blogs:Books:
And, of course, the amazing
Amber
who sent me several of her own favorite recipes (a few of which I made, and all of the ones I made, I loved!).
So, to celebrate my plant-strong month, I have a pretty sweet giveaway for you guys!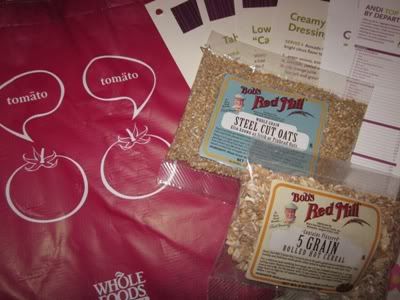 A reusable shopping bag from Whole Foods, two samples of Bob's Red Mill oats (one 5 Grain and one Steel Cut), some recipes and plant-strong nutritional guides from Whole Foods, and (unpictured) three Larabars of your choice from
this list
of varieties!
Note: These items were either provided to me free of charge from Whole Foods or purchased with a gift card (also provided to me from the company); however, the giveaway idea/shipping/etc. are entirely mine.
Here's how to enter!
1 - Post a comment here completing this sentence: "My favorite meat-free/plant-based meal is ..."

2 - Follow me on Twitter! @oh_mg (and post a comment here letting me know!)

3 - Post the following on Twitter: "I'm entered to win @oh_mg's Plant Strong giveaway on asmallloss.com - you should be too!" (and post a comment here letting me know!)
Be sure to include your Larabar flavor(s) in at least one of your comments! You can get all three the same, or mix it up - go wild, live a little!
You have until midnight on this Thursday, June 9, to enter; I will announce the winner in this Friday's Roses and thorns. Good luck!