Compared with the craziness of the past few weeks, I'm feeling more in control of my eating these days. I've been staying within my calorie goal range every day, which is awesome - especially considering I had pancakes for breakfast twice during this past week. Matt works an overnight shift until 7am, so we met up twice this week for breakfast. I have been really nervous about dating and restaurants, but I'm very pleased with how things have gone so far ... in terms of both the dating and the restaurant food. (More on him later this week.)
Even though my Whole Foods challenge is over, I've still been using a lot of the skills I learned over the course of the four weeks. While I have reintroduced meat to my diet, I'm still eating lots of leafy greens, I'm still cooking without oil, and I'm still having fruit for snacks instead of pre-packaged snacks. With one exception: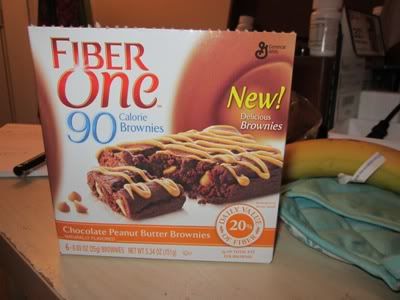 I saw these on a few different blogs and needed to try them. Totally delicious! And under 100 calories! And - they're even better frozen! If I had a microwave and could warm one up for a few seconds, I'd be in trouble. (Which is most of why I won't own a microwave - even at my biggest, I wanted to cook for myself as much as possible. Even if my best intentions included Lean Cuisines, I knew I'd still almost always end up with Hot Pockets. I know myself too well, and when I get busy/stressed, I take shortcuts on taking care of myself.)
For this week's recipe, I made an oil-free pesto using basil I grew myself!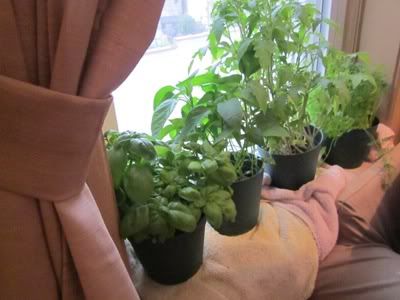 I planted some tomatoes, peppers, carrots, and basil, and I need to transplant it all outside one of these days. The basil smells sweet and incredible and I've been dying to do something with it, so I figured a nice pesto sauce would be perfect. I found the recipe
here
and modified it for a single serving.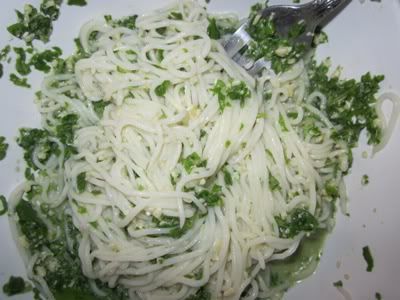 In a blender or food processor, combine 1/3 cup vegetable stock, 1 garlic clove, 1/2 cup fresh basil, 2 tablespoons grated parmesan cheese, and 1 tablespoon pine nuts. Pulse until well-combined.
It was delicious, but I think using the tofu noodles was the wrong application. The consistency wasn't like an oil-based pesto, so I think it would work better with chicken or mixed in with some rice/quinoa/couscous. Or real pasta - these tofu noodles are delicious but sort of slippery, a description that might only make sense if you've tasted/felt the noodles before. Also, in my version, I omitted the cheese. I'll definitely add it the next time I make this - it needed a little depth. But it was yummy and really low calorie since there was no oil, so I'll try it again and tweak it a little next time.
What about you?
What's your favorite pasta topping? What's your favorite pasta substitute?