Truth: I started and restarted this post at least fifteen times. Between uncertainty about what angle to take, what to say/not to say ... it's been one of the more challenging entries, for sure. (About boys, at least - and this I attribute to exactly what I said yesterday, the fact that the majority of my experiences are so far removed from the present that I can speak about them clearly and without the present possibility of change to cloud my judgment.)
I don't want to get too list-y, summarizing days one after another as if I were simply trying to document events at face-value. But I don't want to get too analytical, either - with my tendency to overthink things, I sort of want to step out of my comfort zone with this new situation and just let things unfold without rehashing every moment in my head a dozen times.
And I don't want to introduce Matt too much, because I'm not sure if he'll become a regular to the cast of characters here. I think I'd like him to, but I'm also trying to be cautious. No matter what ends up happening, though, I'll always know Matt as my first second date.
Since I started dating in college, I've been on so many truly lousy first dates. Most of the outcomes I could have predicted, though, because I tend to go out with the same kinds of guys every time: they're nice guys, but they're not right for me. But at 300+ pounds, I was simply grateful that they were interested at all. The dates were usually bad because even though I was a bigger girl, I still did pretty well in social situations, and the guys I went out with were all unfortunately socially awkward. Eventually, I would get frustrated and give up; even the most hopeful optimist can only take so much and needs a break from time to time.
So despite my good intentions and even my best efforts, I've never been on a second date - until this week.
The long and short of it: Matt is my age, a little taller than me. He works a night shift near one of the airports but lives in the city proper. And he has also lost some weight recently while trying to live a healthier lifestyle. He sent me a message on Monday that I just barely missed, and we ended up playing message tag for a little while until we finally synced up and then chatted for hours. It was really interesting, because I wasn't sure if I wanted to reply to him - he's not really my usual type. But you know, my usual type hasn't worked out so far, and this kid seems kind of neat, so I went for it.
The next night, we started texting each other around midnight and didn't stop until eight or so hours later, when we had decided a short while earlier to meet at a diner halfway between us for breakfast. There were chocolate chip pancakes, good conversation, and great chemistry. (My own version of one of the greatest scenes from "Elizabethtown," only we didn't peak on the phone. Perfection.)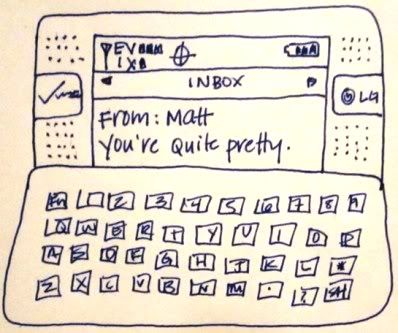 Like most people I know, he teased me at how few recent movies I've seen, and we decided to go back to his apartment and watch one. He didn't make a single move for most of the movie, save the last fifteen minutes or so when he held my hand; given my past experiences with guys, this was unbelievable to me. Having stayed up all night, we were both a little sleepy by the end, and we snuggled up a little. It was very sweet, and besides a little kissing, nothing physical happened. It was unreal.
We hung out for a few hours, and then he had to drive to Milwaukee with a friend since they had tickets to a baseball game. After the game, he drove back to the city and dropped off his friend ... then came to my place to hang out again. We put in a movie but it was late and we were dozing off, so we went to lay down for a while - which, of course, led to more kissing ... and whatnot.
I'll interrupt the story here to give away a bit of the ending: I've seen him four times, and I still haven't had sex with him. This is a lot of dates for one week, true, but he's fun to hang out with and he likes being with me, so I'm going with it for now. Personally, the more surprising thing is that we haven't slept together yet because my experience thus far has been with guys who are real jerks, who try to grab you within the first ten minutes of the date, and I've always let them because I just wanted to feel powerful, lovely, and desired. So, multiple dates with no sex just yet? This is unexplored territory for me in so many ways.
That said, the rest of our dates have generally been more of the same: we go out for breakfast or lunch, we talk a lot, we snuggle up and then fool around a bit, and end up talking some more. I've made good decisions in the restaurants as well as back at his place or mine, I think - everything is as healthy as possible for the situation, and I'm not feeling guilty or obsessive about any of it.
I don't know what's going to happen or if anything will happen with this guy - we have a lot in common, with a few quirky differences for both parties - but no matter what happens next, I've appreciated all that's happened so far. It's been so nice to not feel so alone, to go out with someone and have a conversation, to have him hug me and feel small for the first time in my life because his arms go all the way around me and then some. The stressors in my life are definitely still here and are making me as anxious as ever, but it's nice to put them on the back burner for a few hours and just focus on that which is currently pretty darn good.
What about you?
What are some healthy date ideas - active (non-movie) dates, healthy things to cook, etc?