Last night I was hanging out with my friend Lorelei, the one I ran the Shamrock Shuffle with and with whom I have registered for a couple races this summer (including one today, the United Run for the Zoo 10k). I had sent her a text message earlier reminding her to pick up her race packet at the zoo before 4pm. Long story short: she didn't pick up her packet. She forgot the race was tomorrow, thought it was the 11th. And she hasn't even ran in a few weeks.
*sigh*
So this morning, I am running alone. Our next race together is an 8k on Bastille Day; she also has a Masters in French literature, so I hope that one will be a bit easier for her to remember.
Last night wasn't a total wash, though - we walked to a park near her apartment to sit for a while and talk and love life in such a glorious city.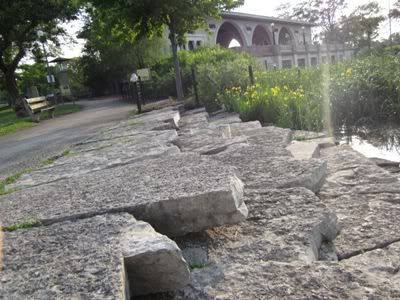 And, huge NSV, I wore a tank top in public.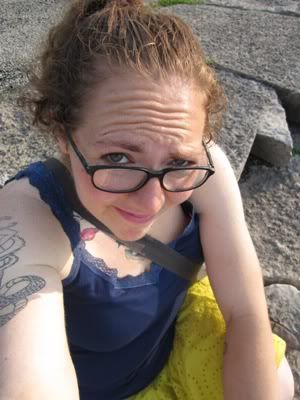 So all in all, it was a good night. I left her place around 7 and came home for dinner and a few chores - including making a race playlist since I hadn't been planning on bringing my iPod. I could've ran silent this morning, and I might still - we'll see how I feel when I get to the starting line - but I'd rather have something prepared and not use it, you know?
Somewhat surprisingly, I'm not all that nervous about today's race. I've been training hard but I don't have any real expectations - I've never done a 10k, so as long as I finish, it'll be a personal best. I'd like to beat my per-mile pace of 11:32 from the Shamrock Shuffle, but I won't feel bad if I can't do it - this race is almost one and a quarter miles longer! I'm just excited to be out there racing - on the lakefront and through the zoo, too, so all in all, it should be a totally lovely day, no matter what the race outcome. Plus, it's another thing to cross off my 101-in-1001 list! Man, I am tearing through that thing...
For today's recipe, I would like to share one that I kind of made myself - I took a couple of different recipes and used the parts that I wanted to make my own version of vegan mac 'n' cheese: mac 'n' peas!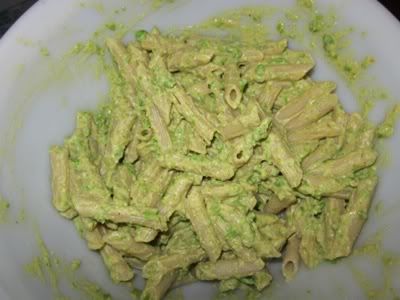 I saw the original recipe
here
but did not want to use flour and vegan fake butter. I found
this recipe
and used the tofu base instead, and it worked just fine.
6 oz. brown rice pasta, cooked al dente
4 oz. firm tofu (not silken)
1/4 c. non-dairy milk (soy, almond, hemp, etc.)
4 tbsp. nutritional yeast
1 cup frozen peas, thawed
1 tsp. yellow mustard
Salt and pepper, to taste
Combine all ingredients except pasta in a food processor or blender. Pulse until smooth. Add pasta to a baking dish; pour sauce mix over pasta. Bake at 350º for 10 minutes or until heated through.
It made a little too much sauce, which is understandable because I was just sort of eyeing the ingredients. The next day I grilled two portobello mushroom caps on my George Foreman grill and put the leftover sauce in between for a vegan Double Down sandwich. Messy, yes, but cheesy and peasy and good.
I had half of this for dinner one night and the rest for lunch the next day; the second day, I tossed in some zucchini and bell peppers. It may have been even better the second time. I really liked this recipe because it didn't leave me feeling super gross like a big bowl of mac 'n' cheese usually does - I'll definitely be making this again!