I taught myself how to read when I was three years old, and since then, I've been a certifiable word nerd. I was an insatiable reader as a kid - I read constantly, and anything I could get my hands on, from fiction novels to nature magazines to math textbooks. Part of why I need glasses, actually, is because after my sisters and I were sent to bed for the night, I almost always stayed up an extra hour or so, reading by the streetlight outside my bedroom window.
It wasn't just the stories and articles that intrigued me, but the words themselves - how prefixes and suffixes could relate words, how certain words had foreign origins, and the like. My second academic love is history, so knowing where words come from and how they were formed has always been completely fascinating to me.
One of my childhood dreams was to grow up and learn how to speak French. It was fancy and exotic - not to mention an open door to tons of new words and phrases. In seventh grade, we had to choose whether to learn French or Spanish, and I selected without hesitation. My mother was upset, saying that Spanish would be more useful with helping me get a job someday, but I ended up pursuing a career with my French studies, so it all worked out. Not to mention there have been incredible other perks to being a French speaker...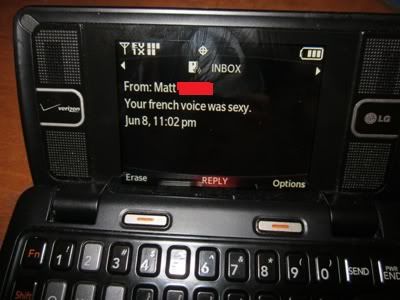 Ow oww! Next to a well-made lasagna, being fluent in French is pretty tops when it comes to man bait.
I've been thinking a lot about dating this week, especially with the comparisons I can be making with my weight loss journey. It feels like I am on a solid path to my first real relationship, and I can't help but compare it to my committment to get healthy. I had so many false starts, so many times when I thought I was on the right track but the timing just wasn't right - but then the universe conspired and opened up a perfect opportunity for me, and I ran with it. And the same can be said for my past in terms of dating - I've had good intentions and bad slip-ups, all of which provided the kind of experience and knowledge that you can only get by making some mistakes and learning for yourself the hard way.
Matt's been busy this week with work - his only day off was Father's Day, and since his dad lives in Chicago, he had plans to spend the day with him - so I haven't seen him in a few days. Which isn't a big deal, really, but since we saw each other so much right away, it feels like a lot more than it is. (And I'm guessing it feels even more exaggerated for me because I'm not working, so my days feel a little longer.) I'm doing everything in my power not to be completely insane and overthink things like I usually do - we're still talking every day, there's no logical reason to assume the worst just because we haven't hung out in a couple of days.
I'm trying to process this all the same way I've approached my weight loss journey: when I get ahead of myself, I obsess and start to stumble - I do best when I focus on one day at a time. I'm forced to think about the word
journey
itself, which has French origins. It comes from a medieval word meaning how far you could go in one day. In modern French, there are two ways to say the word
day
-
un jour
and
une journée
. The former is more of a unit, whereas the latter has a subtle nuance that implies duration of time. For example, when saying goodbye to someone, you can say
Bonne journée
, which is sort of like,
hey, enjoy the rest of your day.
We've all heard the quote about how a journey of a thousand miles begins with a single step. Well, life-long journeys are made up of thousands of single days, each taken one at a time. We only get to live one day at a time - it's all we're given at one time to deal with, so it's all we can reasonably expect ourselves to handle ... with weight loss, with relationships - and with anything, really. Don't worry about the potential challenges that will come tomorrow or next week or next year - just focus on how far you can go with this one day.