Something I knew when I started to live healthier was that with weight loss would come major life changes. What I didn't fully realize, though, was the extent to which pretty much everything would change.
For example: I knew my pants would be smaller - but I didn't think that my sneakers would be, too. I knew my collarbones would surface - but I didn't think that the bones in my hands would as well. I knew my body parts would all be worked harder than ever before - but I didn't think that my brain would become the most active of all.
I find myself in a constant state of self-reflection, trying to make sense of the new facets of my smaller life that I need to quickly adapt to and attempt to understand. It isn't always easy. After wearing the largest sizes available for so many years, I still instinctively reach for the hanger at the very back of the rack when I shop for clothes. Because the extra space has only recently appeared, I still turn and shift my body while standing on the bus even though there's more than enough room for someone to walk past. Despite running 3-4 times a week, finishing races, and breaking personal records left and right, I still find myself choking when I say "I am a runner" because for the longest time, I was the girl who barely moved, who'd let her train pass by and joke that she'd only run if she was being chased. It's so new that it almost feels like lying.
Many of the words and phrases that I use to define myself are recent additions - I was-and-still-am smart, funny, and interesting, but now I'm also active, healthier, and truly happy - and saying these things out loud (and even writing them sometimes) is kind of like wearing an outfit for the first time.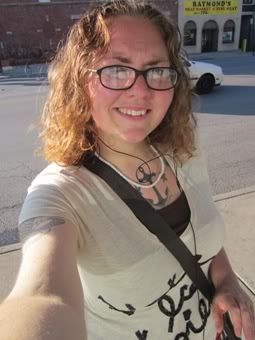 It's probably lovely, but you feel a little out-of-balance and not quite used to the way it feels yet - though you're likely the only one who can sense the awkwardness.
To be honest, I feel that way about my body a lot lately, too - when I walk down the street, can anyone tell I used to weigh 345 pounds? Can they sense that this body is new to me, that I'm not really adjusted to it, and that this feels really strange? The 345 pound version of myself is physically gone, but she will always be part of my identity, alive in my memories; so many of my life's experiences were had by a person that I can no longer see in the mirror, but who is still essentially me and who's very much alive inside my heart. So it's strange to think that the people I will meet in the future, whether passersby on the street, friends, co-workers, etc., will not have any knowledge of my bigger self, at least not at first sight. Even if they learn about my past as a super obese person, the girl they'll be getting to know isn't entirely the same person they would have known had they been there for the downfall, the rock bottom moments, the decision to change, and the transition.
The other day,
Munchberry
referenced a post of mine on her blog, and since she is a new reader, she described me in a way that caught me a little off guard:
... back when she was fat.
It really got me thinking, because even though I am starting to see progress when I look in the mirror, I am also still very focused on how much work there still is left to do. And I started to wonder at what point on my journey would I no longer self-identify as "fat." Is it a number on the scale? My BMI? Or is it a feeling? Will I ever feel comfortable enough to say "I am not fat" and truly believe it?
I turned to my generation's Magic 8 Ball for answers; I didn't even have time to get the whole question out.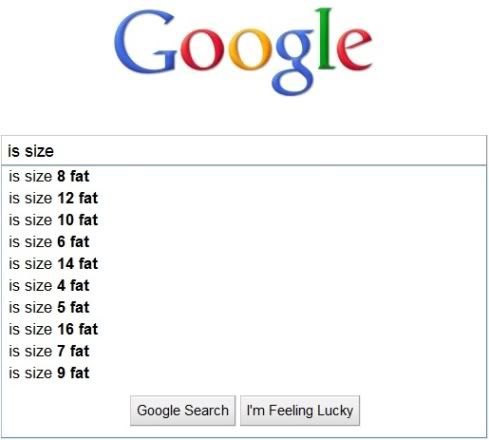 It bothered me a little, for a few different reasons. First: I knew I was fat at size 28, and at size 12 I'm wondering when I won't be - but somewhere, a size 4 is asking the same question. And second: it's really disconcerting that our society consults the Internet to check and make sure our bodies are acceptable per the definitions of others. I'm the only one who will truly know when I am at a healthy weight because it will feel right for me, the only one it matters to - no need to check Google and make sure the world agrees.
And to be completely honest, I don't like to say "I am fat." Or even "I was fat." Because I am not, and I was not. My body may have been, but I am much more than the sum of my parts. I am made up of skin and bones and muscles and tissues and, yes, fat - but less than I used to be. I am a million more things than the physical makeup of my body, and more than anything, I'd like to be comfortable with some of *those* identifiers.