Before I say anything, I'm going to let you know that there's a happy ending to this story. Or at least a plan for one.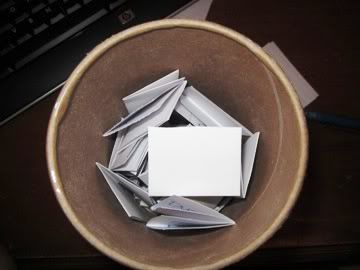 Now, to backtrack a little.
It's okay to not be happy about slow/halted loss - but it's NOT okay to use it as an excuse to eat garbage.
I said that yesterday morning. Then, last night, I binged. Medium - not my worst, but definitely beyond simple overeating. I can't say this enough: the difference for me between overeating and a binge is my intention. I overeat when I am hungrier than usual or if I'm picking at something even though I feel full (or at least satisfied). When I binge, my goal is self-harm. It's like cutting myself, to be honest. I'm hurting emotionally, and I want physical pain to distract myself from what I'm feeling inside.
Looking at my food journal, it seems like I have the most trouble on Mondays. I thought that was odd, until I thought about the movie "Office Space." You know ...
"looks like somebody's got a case of the Mondays!"
I kind of have the opposite problem. Every time Monday rolls around, it doesn't matter. It might just as well be Wednesday afternoon or Saturday night, because I'm unemployed. Pretty much every day is identical for me:
I wake up, weigh myself, eat some breakfast, and check my e-mail for job updates. I clear out my Google Reader, comment on blogs, and think about what I need to get done that day. I eat some lunch, run my errands, hit the gym or head uptown to run on the lakeshore paths, and come home. I eat dinner, clear out my Google Reader again, draft a blog post, and go to bed.
On Mondays I meet up with some former students to help them practice speaking French, and some days I hang out with Matt or Lorelei, but that's only maybe once or twice a week. Most days lately, I feel like I'm just drifting. I'm keeping busy, but not with anything challenging or exciting. Not that I need constant excitement - but I need
something
, even one thing, to look forward to.
That said, yesterday was Tuesday ... I know. I fought the urge to binge on Monday and won, feeling incredibly powerful when I woke up Tuesday morning. But then I checked my Facebook and saw this:

That's my mom. And she didn't write that to me. It was to my sister Lisa, who lives at home. I got so mad, so frustrated, so incredibly angry ... I haven't actually spoken to my mother in months, though I wrote her a ten page letter - and from her? Not even a stupid Facebook wall post. I deserve at least that much, right?
I knew it was going to be a tough day, and despite fighting as hard as I could nearly all day, I lost control after dinner. My thoughts were overwhelming me, consuming me. I know a binge is going to make me feel lousy - but in the moment, that's exactly what I want. I'm focused on my stomachache and the pain in my mouth, so I'm not thinking about my mom or my job or any other life issues.
As I stuffed my face with whatever I could find in the fridge and the cabinets, I tried to think of the last time I honestly cried, and I couldn't recall it ... not a good sign.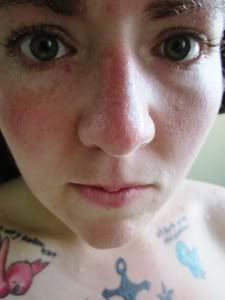 I thought of Geneen Roth and what she has to say about that:
When we are bowled over by grief and our response is to eat a pizza, we halt our ability to move through the grief as well as our confidence that it won't destroy us. If you don't allow a feeling to begin, you also don't let it end.
I went to my computer and researched therapists in Chicago who deal with eating disorders. I only have two more months of health insurance, but anything would be better than nothing right now. I e-mailed a few doctors, then took a long hot shower and cried. And cried and cried and cried. And took pictures of myself to remember how unsatisfied I always feel after I binge. Peace with my mother is not in my cabinets. A job is not on the door of the freezer. So why do I keep searching there for answers to my problems?
I wish I were a weightloss rockstar, a superhero, an angel, and all the other things people have called me lately. Truth is, though, I'm just me. A kid, uncomfortable in a body she's never known as an adult. I'm trying my hardest to let go of old hangups and forge a new self. But I'm fallible. I'm vulnerable. I'm susceptible. And lately, I'm feeling very defeated.
I decided to make a plan for the next time I want to hurt myself - a portfolio of ideas of things to do instead of give in to my urge to binge. Between my own thoughts, a quick Google search, and a Twitter shout-out for ideas, I put together 50 slips of paper, all things to do instead of binge eating.

There's a good mix of activities - physical, mental, emotional - the most expensive of which will cost $1, so not only will they be better for me physically than a binge, but they'll save me money too; binges, even medium/controlled ones, are expensive when you're trying to make every dollar count.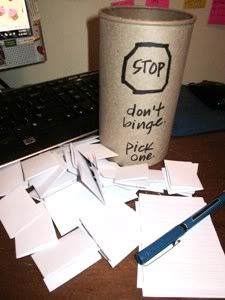 So, today is Day One all over again. My water bottle is full, my running pants are on, and my canister of ideas is at the ready - I'm armed as best as I can be, even though I'm not sure what enemies will be attacking today and what tricks they'll be using to try and make me fall. I'm ready to give a heck of a fight, though, and surrender is not an option. I may be struggling with small battles, but I'm still winning my war - I absolutely have to keep that in mind.