Last night I was wandering around the grocery store, trying to beat the worst of the sudden torrential downpours that started while I was out. I was perusing the end cap of marked-down items; admittedly, things in this area are usually pretty strange. It's almost always odd spices and mixes that need to real explanation why they've been relegated to an often ignored little corner of the general merchandise area. But I still like to check it out, just in case there's a great find. I got a perfectly good jar of pumpkin pie spice for a quarter once!
So imagine my surprise when I saw this: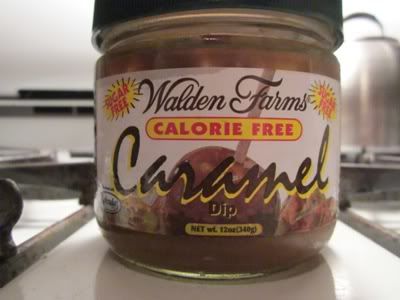 I was intrigued. Sugar-free can be done, and fat-free is tricky sometimes - but *calorie-free*?! My goodness. And not only that: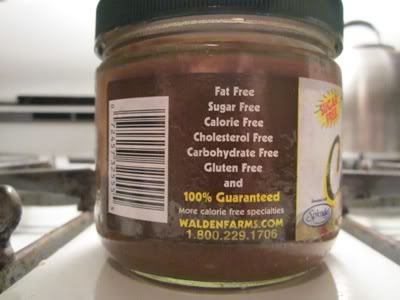 I invested a dollar hoping for the best, but bracing myself for the worst.
You know how they say that things that sound too good to be true usually are? Here's a great example of that. To say that this tasted anything like caramel would be a stretch. The only thing caramel-like about it was the color, to tell the truth. It had the consistency of pudding, if pudding were made with water and this particular batch had also been watered down. There was the distinct aftertaste of artificial sweetener.
Even before my Whole Foods challenge, I have tried to avoid x-free anything. I'd rather have less of something real than all I care to eat of something made with chemicals. And when it comes down to it, I usually choose fruit over even an all-natural prepackaged snack since I can make the most of my calories that way. Looking at the ingredient list for this dip was unbelievable.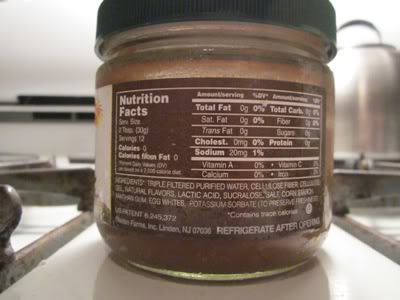 I'm not quite sure how there are egg whites in this while still being calorie free, but still - yuck. I think my favorite part of the list is the end:
potassium sorbate (to preserve freshness)
. Because really, there isn't much of anything in this jar that could possibly go bad. It's almost all chemicals.
Lesson learned. I'd rather have one spoonful of good caramel a year than unlimited access to this junk for the rest of my life!
What about you?
In a dream world where you could remove all calories but still preserve the quality, what food would you want transformed?