I've seen summer "bucket lists" on quite a few blogs lately, and I totally love reading them and seeing what folks want to accomplish in the next few months. I've been thinking about making my own, since goodness knows I'm a lady who loves a to-do list!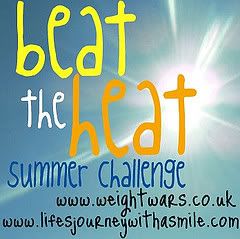 Plus, the Spring Fever Challenge is ending soon and there are a couple weeks before the
Beat the Heat Summer Challenge
starts (and I am thinking about taking a unique spin on my goals for that), so I want to have an active to-do list to keep me focused and motivated.
So here are my picks for summer goals; I'll be posting on these on Mondays until BTH starts (I'll include my bucket list updates with my weekly BTH ones).
1. Complete three of my 101-in-1001 goals.
I've been knocking these out left and right during Amy's challenges, and I want to make sure I stay on track with them. When my mom was out here, she left me some money, which I put in my 101-in-1001 money jar and have been deducting from as things get accomplished - one of my goals is to save $10 for everything I complete. There are $30 still left unclaimed, which is why I chose completing three as my summer goal.
2. Run a 5k in under 30 minutes.
My per mile time at the 10k was 10:39 - I'll need to do an average of about 9:40 per mile to finish a 5k in 29:59. Tough, but I'm up for the challenge. Since I don't have a longer race scheduled just yet, I can focus for a while on faster speed over longer distance.
3. Make peace with my mother.
Right now, this sounds harder than the sub-30 5k. I haven't talked to her in months; the dead air between us will not survive the summer. Mark my words.
4. Finish one painting.
I have paint, canvases, brushes, and ideas. I even have four or five paintings I've started but lost my motivation on. I want to finish at least one, especially the updated version of the painting I did last summer (the one for which this blog is named).
5. Walk to Devon Avenue with Lorelei for lunch.
It's about a 3.5 mile walk from my place to hers, then about 7.5 miles up north to Chicago's Little India neighborhood. We really love Indian food, and I think after walking 11 miles, I will be able to enjoy a samosa or two without any guilt!
6. Write ten letters.
I love sending mail even more than I love receiving it. I used to write letters all the time, and right now I have nothing but time on my hands. No excuses!
7. Meet the Ironman distances for running, biking, and swimming in one month.
I can knock out the running and swimming, no sweat. But the closest I've come with the biking is still short by about seven and a quarter miles.
What about you?
Have you made a summer bucket list? What are your goals for this upcoming season?