Guys, I've been a bad blogger. I've received quite a few blog awards lately, and I've had so many things on my mind that I've been putting off sharing them for quite some time. I saved them all on my desktop, even wrote reminder notes to myself to address them and everything. *sigh*
I love blog awards. I love finding out new tidbits about people that might not otherwise be brought up on a blog about healthy living, and I especially love finding new blogs to read - new ideas and perspectives about the journey are always greatly appreciated.
So without further ado, here are some awards I've received lately, with overdue thanks to the givers, and I'm passing the awards on to some awesome bloggers who you should check out if you don't already!
I got this from
Hyla
- thank you!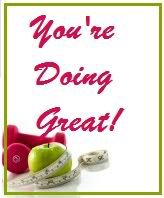 I'd like to pass this one on to
Timothy
and
Tammy
, who are doing a fantastic job in spite of recent struggles - setbacks are only fatal when we allow them to be, so I am so inspired by folks who keep fighting even when the going gets tough.
This one is from
Tabitha
- thank you!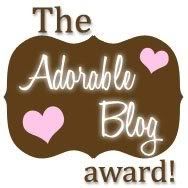 I'd like to pass this one on to
Meghan
and
Katie
, who both just hit awesome decade milestones with their losses!
And this is from
Katie
- thank you!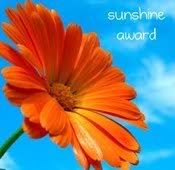 I'd like to pass this one on to
Munchberry
,
Ann
, and
Amy
(whose awesome comments and advice never fail to bring some sunshine to my day) and to
Joy
(who always signs her comments with a reminder to keep focused, which I always love and appreciate).
So now, five random facts about me. (Surprises are getting harder to come by, I'm a bit of a chronic over-sharer here...)
1. I got an A on an oral presentation in one of my Spanish classes in college - we had to talk about a day when everything went wrong, and I talked about the Christmas when all I wanted was a Red Rider BB gun and everyone told me I'd shoot my eye out, and in the end I got it but the dogs ate our turkey dinner so we had to go out for Chinese. The professor was from Ecuador and sat there with her jaw dropped in disbelief at the craziness of my story; my classmates stifled their laughter.
2. I have a huge fear of escalators stemming from a malfunctioning one I was on in New York City in 6th grade - people ended up in the hospital. So, if I don't need to be on one, I won't.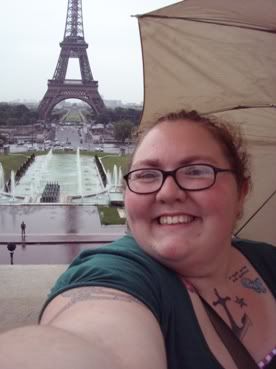 And if I do, odds are my eyes are closed and I'm three seconds away from vomiting and crying.
3. I turned down a once-in-a-lifetime dream opportunity to study and teach at La Sorbonne when I was in grad school. I gave a variety of excuses, but really, I couldn't bring myself to go back to Paris at all, let alone live there, because of my size. I don't have too many regrets in life, but this one hurts very much to think about.
4. I begged my parents for a Polaroid camera when I was a kid. I wanted to document my life, and I always loved the aesthetic of the instant images. I bought one for myself when I grew up and got a part-time job, and then they discontinued the film. I was pretty devastated, and I used my last film pack in 2008 when my dad and I road-tripped to move me out to Chicago.

Now every time I'm in a thrift store, I check the old cameras to see if there are any exposures left. I found one this weekend that said it had ten, so I bought it - but it lied. There was a film pack inside, but it was malfunctioning. I don't care about the $5, I was more disappointed that I had my heart set on a few lovely instant photos of my fantastic new life.
5. For what is likely the first time in my life, I am really excited for summer. And I'm really looking forward to celebrating July 31 - my rebirthday. I'm a whole universe away from the girl I was this time last year. I'm not going to wear the same sundress every day because it's all that fits, and I'm not going to spend the summer on the couch playing Sonic the Hedgehog and eating takeout. I'm a lady who goes out and does things now. I'm making things happen!
"And so with the sunshine and the great bursts of leaves growing on the trees, just as things grow in fast movies, I had that familiar conviction that life was beginning over again with the summer."
"The Great Gatsby"