In general, Friday was a relatively relaxed day - I had to make a couple trips from the office to home since I have accrued an awful lot of stuff. Like my giant tote of plastic toy food. (Yes, I was teaching at a university, why do you ask?) I packed everything up, took my nametag off my door, turned in my keys, and walked out of the building feeling just like the last time you leave somewhere ought to feel. Resolution. Contentment. Satisfaction. A little worry, but not about leaving. More about where I'm heading.
I can't get this quote out of my mind from the movie "Half Nelson":
"Change moves in spirals, not circles. For example, the sun goes up and then it goes down. But everytime that happens, what do you get? You get a new day. You get a new one. When you breathe, you inhale and you exhale, but every single time that you do that you're a little bit different then the one before. We're always changing. And it's important to know that there are some changes you can't control and that there are others you can."
Not having my contract renewed wasn't ideal, but it wasn't within my control. My boss got just as emotional as I did when she told me they'd be filling the position with new graduate students - I'm a great teacher, she said, and so much of our student retention rate is thanks to my passion, dedication, and the comfortable atmosphere I create in my classroom. She said she'd fully support and endorse whatever ventures are next for me, and so I'm trying to remain hopeful. I can't help but think that there's a purpose for it; the sun has gone down, but it will come back up. It always does. Today is a new day!
Knowing that Friday was going to be a tough day emotionally, I made sure I was prepared by having a chocolate brownie Balance bar on hand - it was enough like a treat to prevent the urge to go crazy and use food to forget that I'm *gulp* unemployed. A king-size Snickers bar has almost 550 calories - the Balance bar has 200 calories, plus vitamins and protein. I'm very pleased with my decision - a year ago, I was feeding my stresses with enought takeout to feed a whole family.
One of my big challenges right now would have arisen whether my contract was renewed or not: my lunches for the past nine months have almost entirely consisted of Lean Cuisine frozen meals cooked in the office microwave, and I don't have a microwave at home. I don't want to get one, because I'm nervous about having that kind of convenience ... and because I honestly like preparing my meals from scratch. I just need to think of some lunch foods, and quick. Things to keep on hand, things that prepare quickly and are generally 250-350 calories. I've requested the Hungry Girl 200-under-200 and 300-under-300 cookbooks from the library - I've made
a recipe of hers
before and loved it, so I'm hoping to get some good new ideas.
For today's recipe, I made one from her website:
Vampire-Proof Chicken 'n' Veggie Pasta
, a healthier version of a dish from the Cheesecake Factory.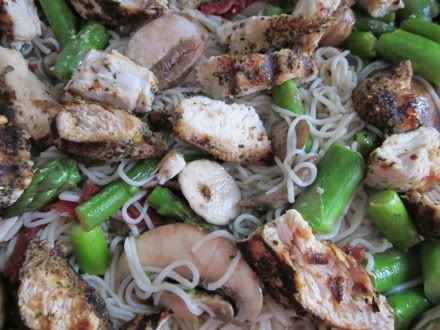 Oh my goodness. Go make this, now. It was so incredibly good, and currently holds the title of My Favorite New Recipe.
2 bags House Foods Tofu Shirataki Spaghetti Shaped Noodle Substitute
8 oz. raw boneless skinless lean chicken breast cutlets
1/4 tsp. Italian seasoning
1/4 tsp. salt, divided, or more to taste
1/8 tsp. black pepper, or more to taste
20 asparagus spears, cut into 1-inch pieces
(about 2 1/2 cups)
1 cup sliced brown mushrooms
1/4 cup sun-dried tomatoes packed in oil, drained and thinly sliced
1 tsp. chopped garlic
1 tbsp. light whipped butter or light buttery spread (like Brummel & Brown)
1 tbsp. reduced-fat Parmesan-style grated topping
Use a strainer to rinse and drain noodles well. Pat dry. Cut noodles up a bit, using kitchen shears if you've got 'em. Set aside.

Bring a skillet sprayed with nonstick spray to medium-high heat on the stove. Add chicken and season with Italian seasoning, 1/8 tsp. salt, and pepper. Cook for about 4 minutes per side, until fully cooked. Remove chicken from the skillet. Once cool enough to handle, slice chicken and set aside.

Remove skillet from heat, re-spray, and return to medium-high heat. Add asparagus and 2 tbsp. water. Cover and cook for 4 minutes. Remove cover and add mushrooms, tomatoes, and garlic to the skillet. Stirring occasionally, cook until veggies are tender, about 4 minutes. Add noodles to the skillet, stir, and cook just until any excess water has evaporated and noodles are hot, about 2 minutes.

Add butter, remaining 1/8 tsp. salt, and sliced chicken to the skillet. Cook and stir until ingredients are well mixed and butter has melted, about 1 minute. Add Parm-style topping and mix well. If you like, season to taste with additional salt and pepper.
The vampire business is due to the garlic, which I always approve of. I liked this recipe because it could easily be made meat-free by using tofu or a meat substitute in place of the chicken. The tofu noodles were surprisingly good, and I imagine there will be more where they came from in my kitchen over the next few weeks. I also swapped out the butter for olive oil, which I usually do anyway, and skipped the parm topping, because I didn't have it in the house and didn't want to buy any for just a little pinch. As her recipe stands, it's two servings at 274 calories each. I had about 2/3 of the pan for dinner last night, and I'll be having the rest for lunch today. There's one lunch taken care of! But tomorrow will be another day...
What about you?
What's your favorite lunch food? What are your go-to, quick, low-calorie lunch recipes?