Yesterday was my 10th day of not weighing myself; this morning, I will be stepping on the scale. Committing to time away was a good idea, and for some folks it might work, but personally, I feel like this is the best decision for me right now.
Giving up the scale cold turkey has been a real challenge. The first few days, I didn't notice or care - it was a liberating feeling to wake up and not immediately step on. Around day 5 or so,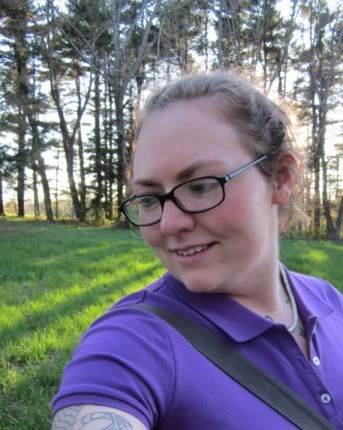 it started to hit me that for the first time since August, I didn't know what I weighed, and there was a bit of panic: if a tree falls in the woods but no one is there to hear it, does it still make a sound? - if I eat right and exercise but don't check in with the scale, do the numbers still drop?
I did fine most days, but a lot of times I found myself bargaining and making excuses. It's okay to go over a little on calories, it'll all sort itself out by Day 30. It's okay to work out a little less, I'll have heavier workout days before the end. That might work for some people, but I could see myself slipping back into old habits if I wasn't careful. And especially in the past few days, I haven't been careful. I'm stressed out, and while going to Connecticut without seeing my family was incredible, it was very brief. I ate well in Connecticut (Jill is amazingly supportive and we had an incredible time), but upon returning, I got overwhelmed with anxiety - I skipped my long run, ate way too much, and took a nap. It was a hectic weekend, I probably would have napped anyway - but choosing to eat and then sleep over go to the gym really bothers me, especially because it was completely rationalized in my head.
I feel very out-of-control in many areas of my life right now, specifically with work and personal relationships. I know myself and my tendency to relieve stresses and soothe my frustrations with binge eating - changes make me panic, and I think that trying to work through the changes of this month by changing up my daily routine just isn't going to work. I related a lot to
this post by Lyn
- she talked about recent stresses and falling off-plan, and something she said really stuck out to me:
"I have been eating a LOT. Not as much as I used to before losing weight. But it is heading that direction. And yes it made me feel sick, and no I did not enjoy much of it. I was sort of going through the motions of eating all this stuff but not really liking it and hating that I was doing it. I have always said it was a form of self abuse and I think that's true ... I lost 100 pounds and my life is not magically a superlife. Oh, yes, it is far far better in a lot of ways, but some basic stuff that was wrong before and had nothing to do with weight is still sitting there needing to be dealt with. It is very uncomfortable having to deal with that stuff so instead I have been hyperfocused on food."
(Emphasis mine - it's an idea I really need to consider and keep in mind.) She also talks about new body issues post-weight loss, things we never really had issues with before but now feel self-conscious about. Another issue of mine lately is self-consciousness and anxiety stemming from my loose skin, which will get a post all it's own very soon.
With very limited exceptions, I write a blog post every single day. This is not for anyone but myself - because I need to keep writing and working through my issues. It keeps me accountable. I honestly believe that if I blogged less often, I'd make the same exceptions as when I tried to not weigh myself. I need to be checking in to keep myself motivated, to keep the momentum going. I have come to realize that my daily weigh-ins are kind of the same thing - for now, I need them to keep myself accountable and focused.
I'm a little nervous about the number I'm going to see, because I honestly don't know what it is. Since I've started, I've reported losses every week - no gains, no maintains. Whatever the number is, though, it will NOT make or break my day. It will NOT validate the last nine months, nor will render them a complete failure. It's a number. One way to measure progress. I'll see it, I'll write it down, and I'll carry on. Most important to me right now is regaining a feeling of control and stability - refocusing on my goals, recapturing my momentum, and reminding myself of ways to deal with my stresses that don't involve food.