My positive picture for the week: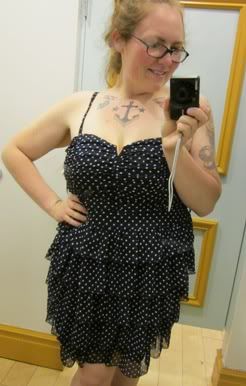 Lorelei and I went to Forever 21 on Friday afternoon - she was looking for an outfit for a wedding, and I was just goofing around. I totally fell in love with how this dress looked and fit - and the fact that it fit at all! It wasn't expensive, but I still didn't get it ... I need to be careful with my finances these days. Which is really tough, because everything cute fits now, so all I want to do is buy adorable new clothes.
What have you done this past week to help achieve your goals?
(1) I lost 3 pounds, down to 209. T-10 pounds to onederland!
(2) I did not weigh Monday but was back on Tuesday and daily since. My goal for this week: no weighing myself Tuesday or Thursday.
(3) I biked 26 miles, for a challenge total of 110 miles (exactly 50% of my goal!).
(4) Finally! I logged over an hour of Wii Fit time. I finally found the 22nd flag of the Advanced Course of Island Cycling, which is an awesome calorie burner - getting all the flags takes me 10 minutes and burns 40 calories, which is really good considering most activities aren't real calorie roasters anymore.
(5) I met this goal last week but I've still been working on my 101-in-1001 list. This week, I completed #34 (Move my blog to my own website) and made progress on #16 (Read 25 English books) and #19 (Reread five books that I loved as a kid).
(6) Tried new thing #1 of 5: I've been running silent. I'm so music dependent during my runs, and I wanted to try just enjoying the run (also, I'm getting kind of bored of the same 20 songs). It's tough at first, but I really like it.
What did you do this past week to make you feel good about yourself?
I got my eyebrows waxed ... and my lip. I've never had my lip done before, and recently I've been super self-conscious about it. I'd never really noticed it before, but lately it's all I focus on in the mirror. Problem solved, and I feel super lovely.
What goal are you having the most difficult time with? Do you have a plan to make it better?
Using the Wii! This should be the easiest one! It should be a little easier now that the semester is over - I'd like to try and wake up and do a little each morning. This week, I need to really start working on goal #7 (my plan for summer/fall) - I can't sit around the house snacking and feeling sorry for myself, which is unfortunately pretty much all I did this weekend. I have to have some sort of schedule so I stay busy and focused.
What goal are you rocking? Do you plan on keeping up the momentum?
Pushing forward with getting to onederland and totally blazing through my 101-in-1001 list. I'm doing my best to keep moving with them!
What's your favourite board game?
Scrabble - it was my great aunt's favorite, she and my grandmother used to play for hours and I'd just sit and watch. I have three boards: a deluxe turntable one (the pieces don't slide everywhere, it's great!), a Super Scrabble one (bigger board and more tiles!), and a French one (different point values for letters - tough but really interesting!).