My positive picture for the week: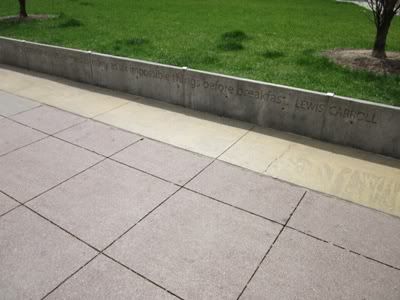 From a park downtown:
"Why, sometimes I've believed as many as six impossible things before breakfast."
Lewis CarrollWhat have you done this past week to help achieve your goals?
(1) Unfortunately, my official weigh in had me up one pound this week, to 210. Battle 1, Mary 0 - but I'm bringing it in a big way for the war. I'm already down a little, motivated as heck, and ready to report a new low on Friday.
(2) I weighed myself every day last week because my eating was pretty terrible, but I'm not feeling bad about it. I think weighing daily is only a bad thing when I let it make or break my day. Lately, it just feels like it is what it is. And I think that's progress in the right direction.
(3) I biked 27.5 miles last week, for a challenge total of 137.5 miles (or 65.5% of my goal).
(4) I did it! Two weeks in a row of satisfying my Wii time goal. And I finally got a perfect march on the Rhythm Parade!
(6) Tried new thing #2 of 5 - I walked to the fancy downtown library and then to the park - about 7 miles in total. I usually take the train there, but it was such a glorious day that I decided to walk and take lots of pictures along the way.
En route, at the library, and at Millennium Park. *sigh* I am endlessly in love with this city.
What did you do this past week to make you feel good about yourself?
I walked almost everywhere instead of taking the bus. I forgot how nice it is to just stroll and enjoy the weather and some good music. I walked at least 3 miles every day, between trips to the grocery store, the post office, and the gym. I only took the bus twice: once to the part on the lakeshore trail where I start my long runs, and then a few days later to a meeting so far north it pretty much isn't in Chicago.
When you go away on vacation or business do your goals get put on hold/pause or do you continue to work on them while away?
I try keep my goals in mind as I make my decisions. I'm not working out or controlling my food preparation like I would at home, so I overestimate calories for my food log and try to do as many active things as possible. That said, I'm on vacation - so there's usually a cupcake. The important thing is that it's one cupcake, not six followed by uncontrolled eating for the rest of the trip.
Do you have friends/family members that you work on a goal(s) with? Do you find working towards a goal with someone easier or more challenging?
For my workout goals, Lorelei is my running buddy and having her around is awesome. We train together for races - we ran the Shamrock Shuffle 8k together and we're both doing the Run for the Zoo 10k in June and the Bastille Day 8k in July. In terms of making progress on my non-scale goals, I have an amazing group of family and friends - some are better with words than actions, but I feel incredibly loved and supported by everyone.
What is your favourite magazine to read?
True story: I had a subscription to Readers Digest from the time I was about 6 until I left for college. It was just one of those things, I guess. Now, I subscribe to Saveur and Bon Appétit (well, I subscribed to Gourmet, but then they went under and replaced it with BA, which totally doesn't compare). My subscriptions are almost up, though, so I'm thinking about replacing them with either Women's Health or Self.