My positive picture for the week:
When I grocery shop, I get four bell peppers and immediately chop them up - that way, I can just grab a scoopful and toss it into my salad/greens or quinoa/rice/lentils. Maybe it's kind of silly, but these pictures make me smile:

I especially like when I tossed them all together and a bit of a red pepper stuck to the side, it looks a little like a heart - how perfect is that?
What have you done this past week to help achieve your goals?
(1) I lost one pound, bringing me to 204 - t-5 pounds to onederland!
(3) I biked 25 miles, for a challenge total of 182.5 miles (or 83% of my goal).
(4) Wii fail. I have nothing but time on my hands, and it never feels like enough time. As soon as I start playing with the Wii Fit, I remember how fun it is ... but getting started is remarkably difficult.
(5) I completed goal #11 (Go vegan for one whole week) and made progress on #71 (Watch 10 movies that I haven't seen yet from the AFI Top 100 Films list - I saw "Singin' in the Rain").
(7) I had a phone interview for a teaching job for the fall - I'll hear this week if I am moving to the next round of interviews. Fingers crossed!
What did you do this past week to make you feel good about yourself?
Sometimes the reality of how much I have done catches up to me and even though it's good, it can feel overwhelming - like when I realized the other day that on July 31, 2010, I had an unbelievable amount of weight to lose, and now, ten months later, I've passed the two-thirds-gone mark. So this week, I started making some sketches for inspirational journey-related artwork. It felt good to create, and it made me feel really proud of myself and all I have accomplished in the past ten months.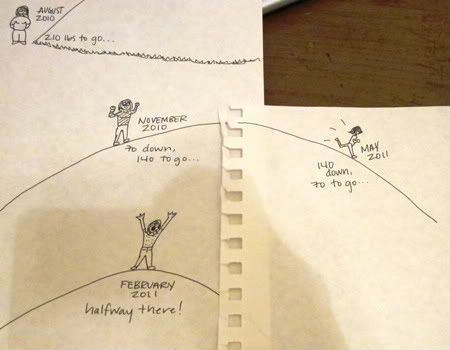 What is your ultimate fitness goal in life?
I'd like to say "run a half marathon," but I'm aiming to do that this fall (provided I find a job and can stay in the city) - I don't want to reach my ultimate goal before I turn 25! So I'll say, my ultimate fitness goal is to find a way to enjoy staying active for the rest of my life. I can see myself running races with my husband and kids as part of a family vacation, and that idea makes me so incredibly happy.
Do you have something you'd like to accomplish but think you can't?
No way! I mean, I have lots of things I'd like to accomplish. But I'm capable of so many wonderful, incredible things - so nothing feels impossible right now.
Do you wear perfume/cologne? If so, what kind?
I don't usually - but funny story: I used to wear Love Spell from Victoria's Secret, but only when I was regularly hanging out with a boy. Now whenever I smell it, that's all I can think of.