My positive picture for the week: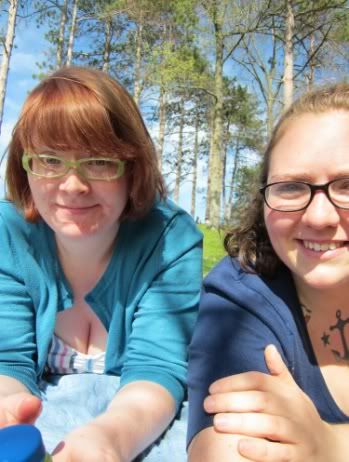 My best friend and me! Together at long last! And in the sun at one of our favorite parks! It's been so cold and dreary in Chicago still, so this was absolutely perfect.
What have you done this past week to help you achieve your goals?
(2) I have not weighed myself in 10 days. I will be weighing myself tomorrow, however, and there will be a related post in the morning.
(3) I biked 22.5 miles, for a challenge total of 84 miles (38.2% of goal).
(4) I have my Wii remotes, but I did not Wii at all this week. Oops.
(5) Goal completed, and then some! My original goal was to complete 3 of my 101-in-1001 goals, and I finished two more this week (#48 and #70). That makes me feel better about not doing any Wii time.
What did you do this past week to make you feel good about yourself?
I wore my best friend's clothes. This is her dress and her little sweater (I brought my usual jeans and a t-shirt, and she told me absolutely no way I was wearing them, we had to take tons of cute pictures so I had to show off my cute new bod).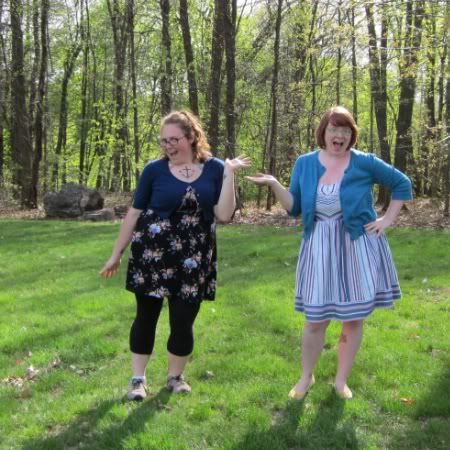 The last time I saw her, I was wearing 4X tops from Target plus size section - now I can borrow her dresses from their juniors aisle. Being able to share clothes with anyone is a huge NSV - but with my best friend, finally? I felt so lovely.
It's May! What were your victories in April? Challenges?
To be honest, April was my toughest month so far. I know looking back it might not be so bad (there were a lot of good things, goals met, etc.), but freshly coming off it, I feel very defeated. I am down, but not out - but still, it's been a tough couple of weeks.
Do you have any plans for the challenge in May?
Coming back to life.
What is your favourite type of ethnic cuisine?
Italian is pretty good, it's what I grew up eating. Since moving to Chicago, I've been eating more diversely since there are a lot of ethnic neighborhoods. I like Mexican food (one of the downsides to living in Pilsen is the delicious smell of tacos on every street corner) and Indian food (the Devon Ave - Little India area is so colorful and full of wonderful spicy smells).