My positive picture for the week: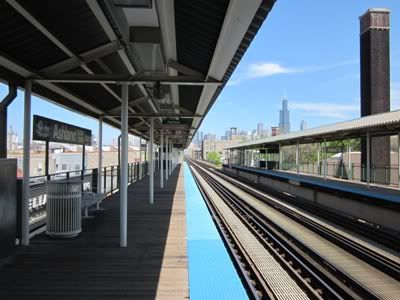 A view of downtown from the El platform from one of my adventures this past week.
What have you done this past week to help achieve your goals?
(1) I lost 5 pounds this week, bringing me to 205 (T-6 pounds to onederland!!!)
(3) I biked 20 miles, for a challenge total of 157.5 miles (or 71.6% of my goal).
(4) Didn't complete the Wii time. I'm not upset, though, because the weather was absolutely gorgeous this week, so I made sure I was out and about as much as possible. I walked over a marathon's worth of miles last week!
(5) I completed goal #75 (try 2 new fish) when I tried octopus for my final meal with meat (I made seafood tacos). I wasn't a fan - which is odd, because I like squid! I've been trying a lot of new vegetables, so goal #73 is coming along nicely as well.
(7) I applied for six or seven more jobs. Now I'm looking outside of Chicago, outside of Illinois, and even outside of the country. *sigh*
What did you do this past week to make you feel good about yourself?
Three words: chocolate mud masque. Oh my goodness gracious. I love how relaxing mud masques are to begin with, but this one smelled sweet and chocolately. It was heavenly.
How do you measure success of your goals?
I think it depends on the goal. With weight loss, I like seeing the numbers drop on the scale, but more important to me is feeling in control and not eating emotionally. For non-scale goals, maybe it's a little silly, but I fully believe when I have tried my hardest, I've succeeded.
What is failure to you when it comes to goals?
Falling short isn't failure to me - that means I'm on the right track, I just need to try harder or differently. For me, failure is the second I give up.
If you could hop on a plane right now, where would you go?
Lately, I've had this overwhelming urge to go to Morocco. It's hot, colorful, and they speak French. Not to mention the intrigue of spicy couscous with apricots...