I know I'm only a few days in, but can I just say ... I kind of love being vegan.
Maybe it's the diversity - every day I eat something new, whether a new ingredient...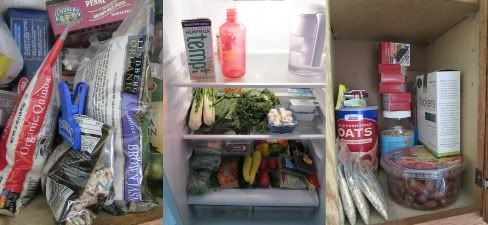 ... or just a new recipe.

Massaged kale salad, portobello mushroom and rainbow pepper tacos, and seitan potato hash with collard greens and tomatoes. Even if I go back to eating meat at the end of the challenge, I'll still keep these recipes in my rotation - they're unbelievably delicious, and all veggie - no meat, no dairy, no oil. And it's all so colorful! Nothing picks you up and out of a funk like a fresh burst of color.
I don't feel like I'm being deprived by not having meat or dairy, and I feel cleaner, which is really remarkable because I thought I felt pretty great before. Something a little surprising is that I don't feel hungry all the time - I thought without meat, I'd have trouble feeling full. But actually, it's kind of the opposite - I feel like I eat more now because I still want to make my 1150-1350 calories a day. So I'll pick up a piece of fruit or have a little salad, and I'm more than satisfied.
I had a ton of energy this week - maybe because of the clean eating, maybe because I decided I was done feeling sorry for myself. But I totally killed all my workouts, ate well, slept great, and came back to life in a big way. I applied for a half dozen jobs - we'll see what happens, but I feel better already just knowing I'm trying my hardest.
For today, I'm weighing in at 205, a 5 pound loss for the week. I couldn't be more pleased. I worked incredibly hard this week, and it's paying off. I'm looking great, feeling fantastic, and so totally ready for greeting the summer as a lady living in onederland for the first time since I was a preteen.
What about you?
What's your favorite thing you cooked/ate this week? What are you looking forward to this weekend?
P.S.!
The winner of my Carb Queen giveaway is... Ann! Please e-mail me your address and the book will be on its way!