Just a quick post today, because I was out late last night partying it up for
my cousin Sarah's
birthday - in addition to great company and a few rounds of cribbage, there also was lots of yummy vegan food - she's also doing the Whole Foods challenge, so her boyfriend Marty made some amazing plant-based treats, including a chocolate hazelnut soy ice cream!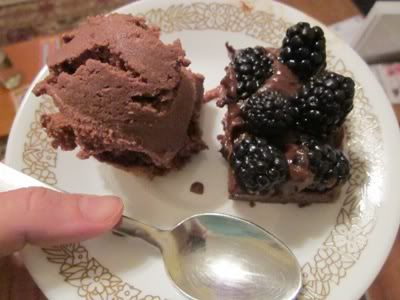 Unbelievable ... sweet but not too sweet, light and natural tasting and not artificial.
For today, I just wanted to share an awesome NSV from yesterday.
It's hard to run on the sidewalks in the city, dealing with traffic lights and all the cars and whatnot, so when I run on the lakeshore paths, I take the bus up north, then run south to downtown.
Yesterday I was on the bus headed to my starting point, iPod on, and an older gentleman near me started pointing to my legs. I took my earphones off and he pointed to the tattoo of an airplane on my left calf, and he said it was a really cool tattoo. He then asked if I was a softball player, because my leg muscles were incredible. I said "no, but I'm a runner," a sentence that still amazes me every time it rolls off my tongue, and he just sat there marveling as I flexed them a little.
In addition to being complimented (which is, in general, pretty awesome), this is a pretty big deal for me. As a bigger person, I always wore long pants in public - even in 90º weather. I didn't want to show off my legs. I was always self-conscious about them and thought they were big and gross (hence why they were the first to be covered in tattoos).
Plus, once in college, a boy I worked with asked to see my newest tattoo and when I rolled up my pant leg to show him, he said (and I quote)
"Damn girl, you've got some big calves!"
Rolled the pant leg back down, never showed the tattoos off again.
Until recently, that is.
I like that the hard work I do makes my body not only feel great, but look great. And I especially like that I didn't even think about someone seeing my legs when I put on my running pants and headed uptown. It used to be a conscious decision to never show my legs. Now it didn't even cross my mind. And I love, love, love that.
What about you?
What great NSVs have you had lately?