On Thursday night, I went to Whole Foods for a
Health Starts Here
tour with Becky, one of our Healthy Eating Specialists. She gave us a tour of the store and showed us some things to look for that support our healthy eating plan, not only in terms of store signage but also with regards to the ingredient lists on packaged food items.
One thing that really struck me was when she picked up a package of Kashi cereal and pointed out that the last three items in the list were all sweeteners: ingredients are listed in order from most to least by how much of the product is made up of them, and so by labeling them as their individual sweetener names instead of a combination, the company is able to avoid having the sweetener higher on the list. It may well be that much of the cereal is made up of the sweetener, but instead, they get around that. And it's not always as easy as looking for "sugar" or even "high fructose corn syrup."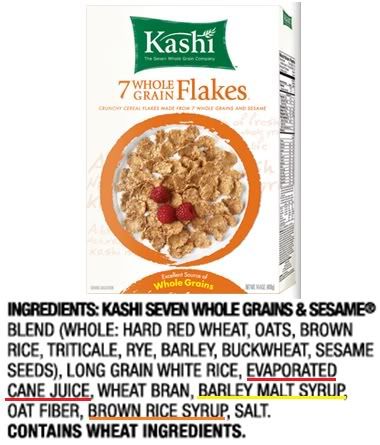 I'm wrapping up Week 1 today, and label reading has become an even more important part of my shopping trip now. If I am buying something packaged, I always look at the calories - starting last Wednesday, I have also had to check and make sure there's no dairy. It's easy enough with the big things - obviously milk, cheese, yogurt, and ice cream are not going to be in my cart. But the pasta sauce I usually buy? Apparently there's parmesan cheese in it. And the protein bar I have after my long run? Whey.
I think label reading is super important whether you are on a plant-based diet or not. It's good to know what's in the food you're putting in your body. I try to eat whole foods as much as possible, especially after having a realization about fat-free sour cream (cream is full of fat, so what is fat-free sour cream full of?!). I'd rather have less of something real than more of something that's mostly chemical.
And I think it's important to note, too, that I'm talking lowercase whole foods here - it's awesome that Whole Foods (the store) is taking this initiative to educate the public about plant-based clean eating, but keep in mind that you don't have to shop *at* Whole Foods in order to buy whole foods. We've all heard the trick of sticking to the perimeter of the store when we go grocery shopping - that's where the fresh and not-overly-processed stuff is. That applies no matter where you shop.
A lot of people think that Whole Foods is more expensive than other stores, and while that is true for some items, there are a lot of things that are a better deal there. (I'm not being paid to say that. It's my own observation.) I'm lucky enough to live in a Mexican neighborhood with lots of inexpensive fresh produce, but the trade off is that some special products cost more. So I'm sticking to Pete's Fresh Market for my fruits and veggies, but blocks of tofu at Whole Foods cost less than half of the price at my local Jewel.
What about you?
Do you look at labels when you grocery shop? Are there any items you decided not to buy after looking at what's inside?