Last week, I attended a dinner and a Challenge class at Whole Foods. The dinner was quite good - a kale lentil stew with quinoa and a coleslaw made with avocado dressing and blueberries.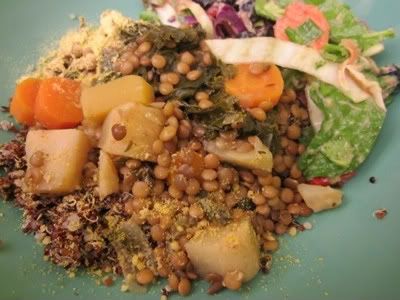 (Side note, I want to get more adventurous with my salads and mix fruit in with savory ingredients, because this combination was surprisingly delicious!)
Then Becky and Bonita, two of Whole Foods' Healthy Eating Specialists, lead a class for me and some of the other Challenge bloggers about cooking with greens. It's easy to fall into the routine of just steaming them - or cooking them up with oil, which seems pretty contradictory to choosing to eat greens in the first place.
They showed us a few different kinds of greens, then made a few different recipes to highlight their versatility. Becky made pinwheel sandwiches using collard greens, hummus, and broccoli slaw; Bonita made the massaged kale salad I recreated for lunch a couple of days ago.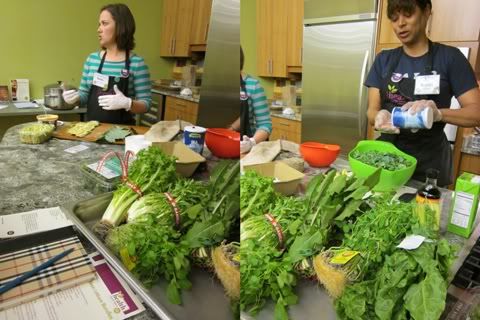 They also cooked up bok choy with liquid aminos and made a spinach and frozen fruit smoothie - all delicious, and outside of the plain-iceberg-lettuce-salad box.
We all received a bunch of collards and were told our homework was to cook them up in a new way and report back at tonight's class. I made them last week with tomatoes and spices alongside a seitan and potato hash. I found the recipe on
this blog
but modified it to eliminate the oil.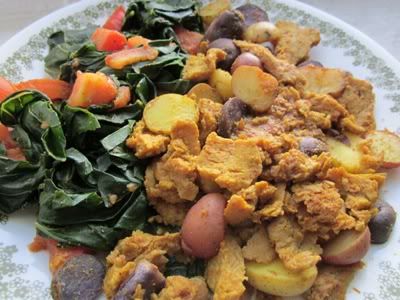 (Yes, some of those little marble potatoes were purple! So much fun.)
Tomorrow starts week 3 of the challenge and I'll be using only naturally occurring oils, no added ones (though, to be honest, I've already pretty much been doing this). No matter what eating plan you follow, you need to have some fats; the goal of this elimination is not to get rid of fats but to make them more plant-based. So, instead of using olive oil, I eat olives; instead of sunflower oil, I toss some sunflower seeds on my salad.
Even though olive oil is a better choice than, say, bacon grease, it's still added fat and calories that aren't necessary for many cooking processes. You can easily replace it with something like wine, orange juice, or even just water. We'll be talking more about cooking without oil at tonight's class - I can't wait to report back with what I find out!
What about you?
What's your go-to healthy swap/substitution in recipes? What are your favorite leafy greens? How do you like to prepare them?