This week has been pretty amazing so far. I've thrown myself back into eating well and staying active, and I'm feeling considerably more positive than I did last week. It never ceases to amaze me how what I eat and how I move can make me feel so good, even when there are so many stressors on my emotional plate.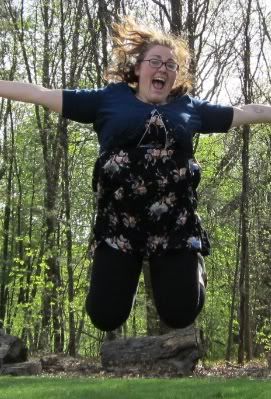 Not hearing back from any jobs I applied to? Not knowing what will happen to me in the fall yet even though the semester ended almost two whole weeks ago? Heavy stuff. But when I run along the lakeshore, I'm just living in the moment. I'm focused just on physically pushing my body forward, one step at a time. It's all I can do.
I've been looking back at my food log and my offline journal from the past few weeks, trying to pinpoint specific thoughts and binge triggers so I can work on these things for the future. There were issues with my mom, about which I have done all I can at the moment. And there was the job stress, on which I am still working but feeling cautiously optimistic.
A lot of it, though, was self-sabotage.
I am in a strange place right now. I'm sure a lot of people would love to be able to say they've lost 135 pounds, but something about that really caused me to freak out. I had been doing a great job, but all of a sudden, it felt like I hit the wall. I couldn't push myself to go any further - I wanted to, but the thought of moving forward gave me a feeling of anxiety unlike any I've known before. 210 was okay - but 2-0-anything ... my heart would race, my breath would get shallower, and I'd just start snacking on whatever I could find in the house.
What makes a person who has lost over one hundred pounds suddenly start to panic?

What made this one pound transition into a new decade so unbearably difficult?
Finally, it hit me:
this is my flip-flop moment.
210 is a very significant number on my journey. Standing on the scale and weighing in at that number, I now physically represent the excess weight that I set out to lose. I look in the mirror and what I see is all that needed to go when I set out on my journey - and all that I've lost so far is equal to what I'd eventually like to end up with.
The subconscious trigger for this realization was in the last week of classes when I was having a discussion with some of the other instructors in my office. Someone asked what my final year-end weight loss was, and I said 135 pounds. And a couple of girls' jaws dropped at the figure, and reacted with
"Oh my goodness! That's more than I weigh!"
And that made me panic a little bit, too. Because measuring your weight loss in bags of sugar or dogs or air conditioners is cute and funny - but being able to measure your weight loss in terms of your friends and co-workers is really emotionally heavy. I want to be proud of all I've done, and I am, but at the same time, being able to say "I've lost an entire person" feels a little overwhelming.
Not everyone on a weight loss journey will have this experience - this is something sort of unique to people with a great deal of weight to lose. And even though being at this point is a tremendous accomplishment, it also carries with it a great deal of pain. Once upon a time, I let myself get to the point where all of this was excess on my body; someday I'll be able to compare myself to the girl I was at the beginning of my journey (345) by combining pictures of present me (210) and future me (135).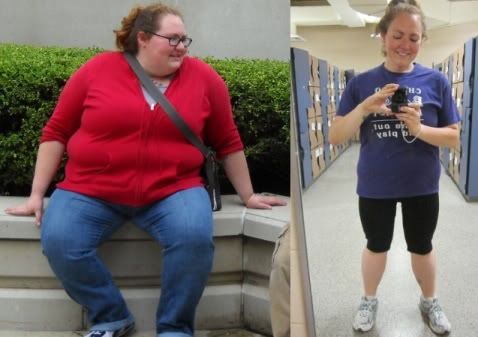 I decided this week that I am not going to let the flip-flopping of the numbers stress me out - I can't let my past weaknesses completely control my present or my future. Like it or not, for the rest of my life, I'm going to be someone who used to weigh 345 pounds. But now, I'm doing the right thing. I'm committed to eating less, eating better, and moving more. And the extra person I've lost so far? I'm better off without her. She was sad and scared and spent a lot of time dreaming about possible future conditions, if only she could get healthy and lose weight.
The person I'm left with is living that life, and it's even more incredible than she could have imagined.