Yesterday was the ultimate rest day. I had been up until about 2am, between Sarah's party and then a late night conversation with a friend of mine. I woke up early-ish for a Culinary Historians meeting about Indian slow cooking, then headed home and ate the cold oatmeal I cooked before the meeting but just didn't feel hungry enough to eat yet: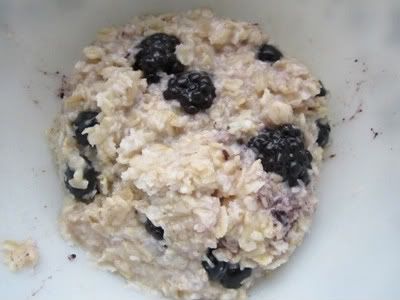 1/2 cup oatmeal with a handful of blueberries and blackberries, plus a tablespoon of unsweetened coconut flakes from the bulk bins at Whole Foods. The berries were super sweet, it was wonderful.
I thought about going to the gym, and then realized that laying down on the couch sounded a lot better. I ran 3.5 miles on the lake shore paths on Friday and just missed the bus home, so instead of waiting for the next one, I just kept walking until I got home - about 6 miles. Add in a mile and a half of walking to/on the lake shore path earlier, plus a little sunburn, and my whole body was still quite tired on Saturday afternoon.
I slept for about two hours, woke up and ate some lunch: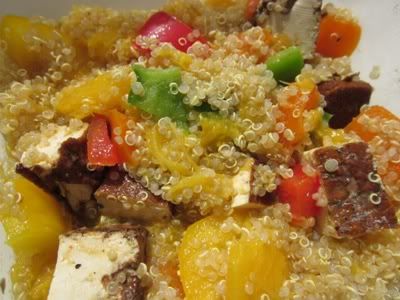 Quinoa with mango, rainbow peppers, and baked tofu. I sat on the couch, crunching away, and decided I felt like sleeping some more. So I put my bowl in the sink, drank some water, and passed out ... for another three hours.
When my body wants to sleep for five hours midday, I need to listen to it and just let it happen. I haven't taken a proper rest day in a while - my last few have been pretty active, with walks at least 5 miles long. So it was really kind of nice to just curl up and let my body recuperate.
I woke up and took stock of what was in the fridge. I wasn't feeling too hungry, but I cooked up a bunch of greens I had in my fridge that were starting to wilt that I'll eat today:

Bok choy, and a mix of spinach, kale, and collards that I tossed up with garlic, two diced tomatoes, a handful of diced rainbow peppers, and some spices (my Usual Suspects - cumin, chili powder, and red pepper flakes).
While cooking, I set my camera on the counter next to the sink and turned on the self-timer: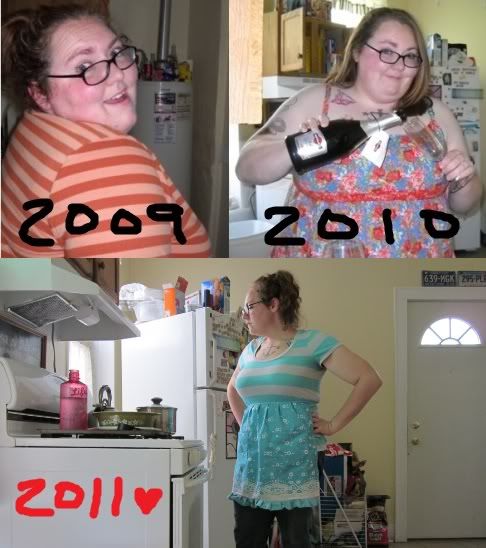 Nothing makes me smile like a progress collage. I really love cooking - structured and repetitive, it's always been something I do to calm my stresses. So I love that I can still do it in a healthy way, without going overboard with my eating.
For today's recipe, I'd like to share a delicious treat I made for
Sarah's
birthday fête: date nut truffles. Think Larabar, but in a delicious poppable form.
I made two varieties: chocolate orange and ginger snap. Oh my goodness, delicious.
2/3 cup pitted dates (about 15)
1 cup almonds
1 tbsp. unsweetened coconut flakes

For chocolate orange:
1 tsp. orange extract
1 tbsp. unsweetened cocoa powder

For ginger snap:
1 tsp. vanilla extract
1 tsp. ginger
1 tsp. cinnamon
1 tsp. pumpkin pie spice
Grind almonds in a food processor until very fine; set aside. Chop dates in a food processor until finely chopped. Add in your spices, coconut flakes, and almonds, and pulse until well mixed. Using a melon baller or tablespoon measurer, scoop out truffle-sized balls and place them on waxed paper - it should make about 15 truffles. Refrigerate until ready to serve.
I then decided to take them to the next level and spoon over some melted carob chips - the chocolate orange ones I covered, and the ginger snap ones I just drizzled with leftover carob. Delightful, chewy, and sweet without being overpowering.
Like many vegan desserts, it's important to keep in mind that "vegan" doesn't mean fat free or calorie free (for these, the ginger snap ones are about 90 calories each, and the chocolate orange ones are 100 [with carob]). It just means no animal products and less processed, and you can hopefully feel a little better about enjoying it.
What about you?
What's something delicious-yet-healthier that you've enjoyed lately?