You could call the program I am working on with Whole Foods a vegan diet, but it's actually even a little stricter. We are eliminating dairy products and all animal meat/flesh, but we also have to omit all added oils and refined sugar. Many vegetarian/vegan recipes I've found so far use natural sweeteners like agave nectar and maple syrup, so that's a plus ... but they also use products like olive oil and Earth Balance spread, which are off-limits with Engine 2.
With the Engine 2 diet plan, there are two paths to follow: the Fire Cadet and the Fire Fighter:
Fire Cadet

Week 1: No dairy of any kind.


Week 2: No dairy and no meat/flesh product of any kind.


Week 3: No dairy, no meat, and no added oils of any kind.


Week 4: Consume only clean, whole, unrefined, nutrient rich, plant-based foods from the following food groups: fruits, vegetables, legumes, whole grains, nuts and seeds.


Fire Fighter

For all 4 weeks, the Fire Fighters will eliminate all animal-based products and refined foods. (Like starting with Fire Cadet Weeks 3 and 4)
Because of my situational concerns about transitioning my eating habits, I chose the Fire Cadet, the slow track plan, in order to get the health benefits of going plant-based without shocking my system too much. Not eating dairy isn't a huge transition and I don't find myself struggling, but I know Week 2 and no meat will be a little tougher, so this week, I've been slowly phasing out meat (definitely eating it less often than usual).
A few of the other bloggers who chose the Fire Fighter track have talked about experiencing withdrawal symptoms - while I can't relate in terms of this specific challenge, I totally understand. In August when I was first starting to eat healthier, it was unbelievable. I had headaches, I couldn't sleep through the night, and I would crave fast food so bad I would cry. I fought it, finding ways to distract myself from the pain (like starting this blog!), and eventually my body adapted to the changes and readjusted to accept what I would be using to fuel it from now on. I know myself and my situation, so starting as a Fire Fighter just wouldn't work for me. By the time I get to Week 4, though, I think it will be a manageable challenge.
Since I have nothing but time on my hands, I've been researching recipes and trying to put together plans to make sure I stay on track not only with the Engine 2 plan but with my own weight loss goals. It's interesting: for nine months, I've had the habit of picking something up in the grocery store and looking first at the calories. I've started looking at the ingredient list and mentally classifying things:
week 2, week 4
.
This week's recipe is Confetti Rice Salad, a delicious and colorful bowl of rice, veggies, and tofu that would work for weeks 1 or 2. It's a modified version of a recipe that
Amber
sent me - I changed quantities to suit my single needs, and I used premade baked tofu because I wanted it. Her recipe would work for the whole plan if I made the tofu myself, but the baked tofu had oil in the marinade.
Look how gorgeous that is! So yummy, and incredibly filling.
1/2 cup rice (I used a wild/whole grain brown rice blend provided for me by Whole Foods)
1 cup water
1 tbsp ground cumin
1 tbsp garlic powder
8 oz. baked tofu, cubed
1 medium orange bell pepper, finely chopped
1/2 can (15 oz.) black beans, rinsed and drained
1 medium tomato, finely chopped
1/2 cup fresh or frozen corn kernels
1/2 cup chopped green onions
2 tbsp. lime juice
Combine rice, water, and spices in a saucepan. Cook according to the instructions for the rice (time will vary based on what kind of rice you use - cook it until rice is tender and most of the water is absorbed). Remove from heat and add tofu, vegetables, and lime juice, stirring well to ensure even coating.
Let me tell you, it was delicious. This is the rice I got from Whole Foods: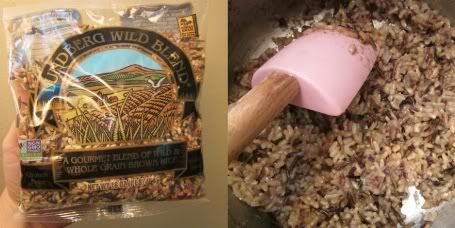 And it took an hour to cook. My only regret about this recipe was that I didn't look at how long the rice took to cook before I made it, because I came home from the gym ravenous thinking it was 15 minutes to dinner. Totally worth it, though.
The recipe, as I made it, is 2 servings at 525 calories each. They're huge portions, though, and I could definitely see doubling the rice and dividing it all into 4 servings for just under 350 calories each. I've been eating bigger meals than usual, but I'm also eating less often because I'm feeling fuller longer. My old breakfast, for example, was a Yoplait Light yogurt (100 calories) and two hours later, I'd have a mini Luna bar (80 calories). My recent breakfast love: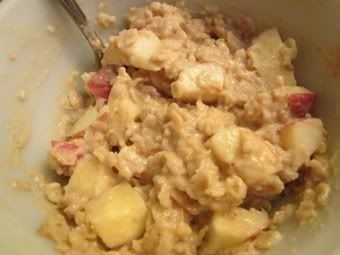 Seriously, so good. 1/2 cup of oatmeal, 1 tbsp. of peanut butter (I swapped out my processed one for a natural one with just peanuts and flax seeds - delicious!), and a chopped apple. Ready in 5 minutes, satisfies my peanut butter love, and keeps me full - 330 calories, and I don't feel hungry again for a good 5-6 hours. I could get used to this!