Last month, I won
Jess'
book giveaway on her blog. She had received the book from another blogger, and I am meant to pass it on. It's our community's traveling book, and it makes me so happy to have this kind of connection to people I've never met.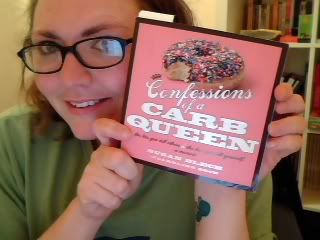 A blog is wonderful, but a book is something to hold - and better yet, to pass on to someone else who might be able to appreciate it in his or her own way.
The book is Susan Blech's "Confessions of a Carb Queen: A Memoir." This is the book my mom read when she was out here visiting, and she went into it under the assumption that it would be a diet manual. Interestingly, though, I didn't find the weight loss to be the main focus of the book. She details her struggle with binge eating while talking about her childhood, her interactions with family and friends, and the mental/emotional struggle of going to a weight loss clinic to work through her addiction to food.
Something I really appreciated about this book was Susan's candor, especially when talking about the less-often-mentioned aspects of the day-to-day life of a super obese person. Specifically, she talked an awful lot about sex and dating, and I found it really comforting, in a way. It's such a relief to feel like I'm not the only one who's had these kind of experiences ... I could see myself in her descriptions of the things the men would say and do (like being okay with a physical relationship, but not okay being seen together in public) and the things she would say and do because, like me, she just wanted to feel loved, or at least less alone.
"You know the best kind of sex?" I say.
"What?" says Joy, wide-eyed.
"Any sex after you've lost weight."
p. 300
The book read like a conversation - I found myself crying, then I'd turn the page and be cracking up with laughter. And when I finished it, I was a little sad that I couldn't call her up and ask her for a hug. It was great, and I can't thank
Jess
enough for passing it on to me!
And now, I'd like to pass this along to one of you!
Here's how to enter!
1 - Post a comment here completing this sentence: "The most important thing I've learned about myself while on my journey is..."

2 - Follow me on Twitter! @oh_mg (and post a comment here letting me know!)

3 - Post the following on Twitter: "I'm entered to win @oh_mg's Carb Queen giveaway on asmallloss.com - you should be too!"
You have until midnight on Thursday, May 19, to enter; I will announce the winner in next Friday's Roses and thorns. Good luck!