This past weekend, I went to visit my best friend Jill in Connecticut. We only had about a day and a half, but it was perfect - just what I needed.
The last time I saw Jill was when I was visiting home in July, and it was tough. I was in the process of hitting rock bottom, and I was so ashamed of what I had let happen to my body that I didn't want to see anyone, not even my best friends. Making matters worse, Jill is an amazing photographer who loves to document all of our adventures - and the thought of having even more photographic proof of how far I'd let myself go filled me with anxiety. For example, this picture is from an afternoon we spent with friends at a beach in my hometown: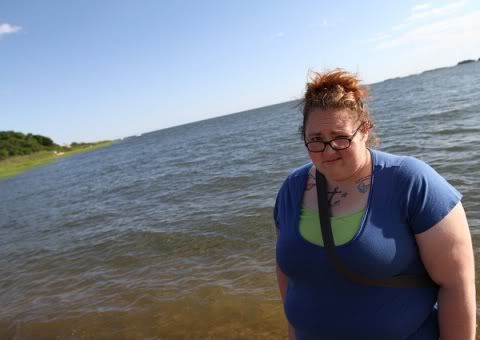 You can feel how tense and uncomfortable I am. I never make faces like this anymore.
With all the changes in my life right now, all the stresses and anxieties, I've been missing Jill like crazy. It's tough going through hard times, but it's especially tough when you feel like you're going through them alone. I have a great group of friends in Chicago, but none quite like my friends from college. We're adventurers - people who'd rather run around and see/do things than go out to bars or clubs, folks who can't see spending money on fancy purses but can totally justify any museum/park admission and the cost of most flea market finds.
We write each other letters and e-mails quite frequently, but there's nothing like curling up on a couch or in bed with your best friend, chatting, and being close enough to hug if need be. So this weekend, we had to make up for an awful lot of lost time and get in as much as much exploring as we could given the time constraints. All in all, I'd say we had some fantastic adventures.
There was sunshine and fresh air and nature.

And, of course, tons of autoportraits to capture this clean, happy feeling.

We ate well - we went out to brunch with some folks Jill knows, which was incredibly fun. I had an egg white frittata with mushrooms and feta (which I did not finish!), hold the toast, and fresh fruit instead of fries. There was an unpictured (but amazingly delicious) salad from Stew Leonard's for dinner, and later - an Almond Joy cupcake. Because after all, it was a vacation.

Going out to eat with Jill was an entire world different from eating with my mother - Jill was supportive and not pushy. When she ordered her sandwich, she asked for a salad instead of fries, then smiled at me with this fantastic look of camaraderie and understanding. It was just what I needed.
Something we have always enjoyed doing is taking "jumping pictures" - setting a camera up somewhere to self-time and jumping in the air as the photo is snapped. We did some this past summer at the same beach day I referenced earlier, and they're so unbelievably unflattering for me. Not to mention it was exhausting - sometimes the timing is off and we need to do a few takes, and throwing my 345 pound body repeatedly in the air totally killed my legs and feet. This time, it was different.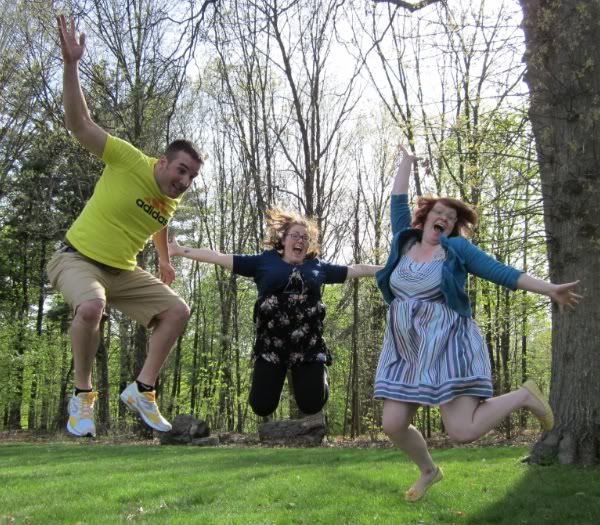 Not only did it not hurt, but I can see how much I've changed by looking at this picture compared to old jumping pictures. My body isn't flying everywhere - and, more importantly, I'm smiling and happy.
I think one of my favorite pictures of the whole weekend, though, is this one, which wasn't intended to be a serious shot: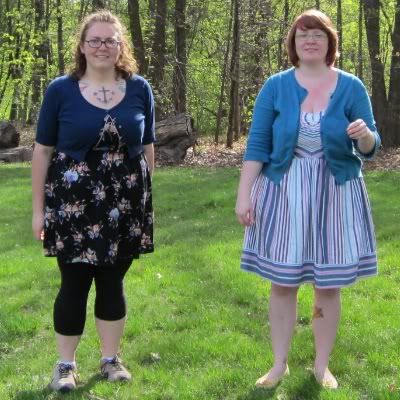 Our friend Curtis (the guy from the jumping picture) was going to take a shot of just the two of us jumping, and he wanted to do a test shot to see the reaction time of my camera. It's just a picture of me and my best friend, and for the first time in my life, I felt ...
normal
. For once, I didn't feel awkward and huge - I was so comfortable there, wearing her dress and her sweater. I have been trying to look at this picture with an outsider's eyes, to not search for the usual things I focus on, the visual hints and reminders that I am someone who used to be super obese. This looks natural, like it's been this way forever.
And to be honest, I think my view is helped by the fact that it felt that way. Emotionally, it felt like every other time I have been with my best friend - it was only my physical body that had changed. I had been worried about this, nervous that things would be so different and strange now. But there was nothing to fear. Having this one lovely constant in my world that has changed so drastically in the past nine months is just what I needed to get me through the end of April, the most stressful and challenging month of my journey so far, and to push me forth towards May.
I'm jumping in.