By now, April is in full swing, so it's time for my March fitness wrap-up!
Compared with my end of February totals, I was a lot more active in March. Of course, there were no blizzards in March, no family crises, and three more days on the calendar...
Of 31 days, six were complete rest days (two of those were my trip to St. Louis), plus two days with just some Wii Fit.
I used the Wii three times in March, which isn't a lot, but compared with only once in February, it's an improvement. Not having the nunchuck is still my excuse - my mom and brother will be bringing it with them in a week and a half when they get here, so that will help me make good on my SFC goal of using the Wii for an hour a week.
I had a similar experience with my strength training - I am gradually increasing from month to month, but I really would like to do more. I'm actually pretty okay with the way my arms are turning out (and goodness knows I'm completely in love with my legs), but I definitely want to start focusing on my ab muscles - that's where my skin is the loosest and I'm starting to get a little self-conscious about it.
I did not use the pool at all in March or February - my last swim was January 30 - so that's one of my goals for April: get back in the water! I have been looking around for a new bathing suit since the whole reason I stopped swimming was because my old suit was hanging off me and I didn't want to show off my bum. I found a super cute one from Lands End, and I even went downtown to Sears to try it on ... but it's really hard to justify spending over $100 on something that won't fit in a couple of months, even if it is adorable and polka-dotted. So I'm going to check out Target this weekend.
I biked 81.5 miles in March, up from 67.8 in February (and 62.9 in January). A half-Ironman biking distance is 55.92 miles - the full is 111.85 - so while I am still not at full distance, I'm doing very well and getting closer! 81.5 miles is nothing to complain about - that's even longer than if I ran from one side of the state of Connecticut to the other! (Or nearly three Delawares!)
As I predicted in the end of February, I caught up on my goal to run 345 miles in 2011 - and I even got a little ahead by the end of the month! I logged 37.42 miles in March, which brought my year-to-date total to 88.75 miles, or 25.7% of goal. Longer Sunday runs helped a lot, and those will help me in April too, since I will be jumping right into training for my 10k race in June after my 8k race next Sunday. Here is the training schedule I put together for myself and Lorelei (my running buddy with whom I am also running the Shamrock Shuffle next week):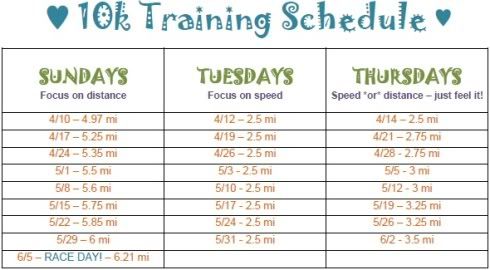 It isn't a ton of time, but I'm okay with that. The distance increments seem do-able: my 8k training schedule had me increasing quarter miles every other Sunday, but I planned this one to increase every Sunday but a shorter distance. And if I have to walk during the race, I'll walk - the last thing I want is to blow out my knees or otherwise injure myself!
What about you?
Do you keep track of your workouts? What exercise goals or plans do you have on deck for April?