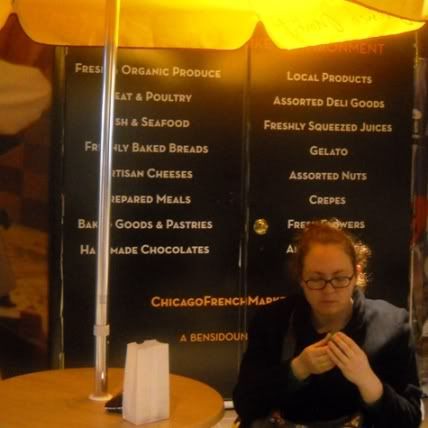 "Live through this, and you won't look back."
Stars
I usually post recipes on Sundays, but this week, I have nothing. I haven't cooked in over a week, besides throwing together the occasional bucket salad. I'm not happy about that, but this week will be full of opportunities to get happy again, to get back into the things I love - cooking and eating healthy meals, drinking lots of water, and being physically active.
Today, I will say goodbye to my mother and brother. As soon as their car is out of sight, I will run back upstairs and let out all of the tears I've been fighting back for days because my apartment is small and I can't properly grieve my current situational failures with my mom here. I'm going to sob and scream into my pillow until there is nothing left to let go of, and then I am going to go for a walk.
The weather for today is not looking great. A little rain doesn't bother me. Bus pass and keys in my pockets, iPod at home - I need to be alone with my thoughts today. The gym is closed since it's a holiday, but I really don't mind. I kind of prefer it, actually - it's all coming full circle. I am going to go for a walk because that's what I did on July 31, and despite being over a hundred pounds lighter, right now, I feel just as weak and unsure as I did back on Day One.
After a few miles of physical movement and emotional introspection, I'll come home, grab a garbage bag, and get rid of everything my mother has filled my fridge with. I know it's wasteful and I feel a little guilty, but I just can't keep it here until Monday to give to folks at work. The situation is that critical. It has to go
now
. The trash bag needs to be immediately brought out to the alley - it can't stay in the house a second longer.
Today's meals will be clean and simple, and my menu for the week will be planned, organized, and full of the healthy foods I have nourished my body with for the past nine months. I love feeling light and clean. I love finally fully enjoying my life. I'm not willing to throw all my hard work away. Nothing I've eaten this past week tasted as good as it felt to run a mile for the first time in my life. Nothing I've eaten has made me feel as happy as buying clothes at normal stores. And nothing I've eaten was as sweet and satisfying as finally looking in the mirror and starting to love that girl.
I'm starting over again, again. And I'm trying something new.
My scale has been cleaned off, folded up, and tucked away in my closet. I weighed in on Friday and I'm not going to weigh myself again until May 22. Thirty days, scale-free. I was really hesitant to try to commit to this - it isn't an excuse to continue eat junk, and it isn't a means to avoid taking responsibility for how I've fallen apart this week. I'm owning this failure, believe it. No one is more disappointed in me right now than I am in myself. I'm not proud, I'm not happy, and I'm not feeling healthy or inspirational, even to myself. I'm not giving up, though, either, and that's the most important thing.
This challenge is critically important to me right now, especially as I prepare for my life in maintenance. Thirty days to get back on track, to deal with my end-of-semester/job stress, to focus on feeling my best and not on numbers. Without seeing it happen numerically, I want to transition into my life in onederland - I'm remembering how tough it was to go from 300s to 200s, and I can feel myself self-sabotaging because of the anxiety and fears associated with redefining my identity to include this new aspect. I want to take the power away from the numbers and focus instead on nourishing my mind and body and feeling like the best, healthiest me that I can be.