New season, new challenge. I am *so* ready.
It's really interesting: when I came up with my list of goals for Drop Dead Gorgeous by December and Winter Wonderland Warriors, I could easily think of things I wanted to accomplish. But when compiling this list, it took me a surprisingly long time. I think the difference this time was that I wanted to pick things that were really, truly challenging. Outside of my comfort zone type things, pushing myself beyond my norms type things. In the past, I picked goals that seemed easily attainable because I didn't want to disappoint myself or let myself down.
This time, I'm playing a little differently. I'm trying to redefine success in order to calm my perfectionist/overachiever tendencies. It's okay if I want to visit three museums and only get to two - realistically, I am the only one who is disappointed by my falling short. I am going to try my hardest and do the best I can, and that will be enough. That will be a success.
So, without further ado, here are my goals:
1. Get to onederland.
As of last Friday's weigh in, I'm at 220. I'd like to greet this summer at 199 or lower. 1.75 pounds a week will get me there!
2. Cut back on scale dependency.
My weight is "official" and recorded on Fridays, but I weigh every single morning as soon as I wake up. That number controls me - it can make or break my day. I want to cut back on how frequently I weigh myself - by the end of the challenge, I'd like it to be just Fridays, but I'm going to start small.
3. Log 220 biked miles.
I'm trying to run 345 miles this year, but I can bike longer distances than I can run, so I think 220 (my challenge start weight) would be a good miles goal for nearly three months.
4. Log 60 minutes weekly on Wii Fit.
I don't use the Wii nearly as much now that I've become a full-fledged gym rat, and I miss it! It's not as intense as my gym workouts, but some days, that's what I need.
5. Complete three of my 101-in-1001 goals.
For winter, I wanted to complete two, and I did. Stepping it up a notch for spring!
6. Try five new things.
Could be a new exercise, a new store, a new cut of underwear, a new route to work, a new hobby, a new experience - anything! I'm very much a lady who enjoys a routine, I like to do the same things over and over until they're exhausted. I want to expand my horizons, step out of my comfort zone a little.
7. Make a plan for summer and fall.
This has a few parts to it. Within the next few weeks, I'm finding out if I have a job for the fall. If I do have a job, I have to plan how to maintain my healthy lifestyle over the summer without having my 9-5 schedule to keep me occupied during the week. If my contract does not get extended, I have a whole new set of challenges. My current job's paychecks are set up so that I make a little less each month, but my checks are spread out over twelve months - so even though I am done working in May, I get paid through August. So there's a little comfort there. In the meantime, I will need to find a job, figure out if I can stay in my apartment, figure out if I can stay in Chicago ... and still manage my healthy lifestyle on top of that. My plan for this goal is to stay sane in this period of transition and to see growth opportunities where I would once have seen major roadblocks.
I think that covers most of this first week's questions ... oh!
What is something most people (er... fellow bloggers) don't know about you?
I have fourteen tattoos. I think people know I have a lot, but the thing people (not just other bloggers) might not know: I love them and I don't regret getting them, but I'm not sure I would have gotten so many/such big ones if I wasn't super obese. They'll get a post all their own later this week.
And
my positive picture for the week: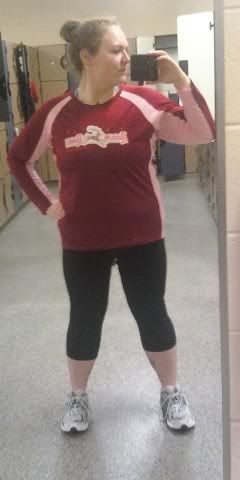 I might be addicted to this full-length mirror at the gym. My mind is shifting, I'm starting to see myself more as a smaller person and I'm not able to identify as easily with my before pictures. This is a very, very good thing. I was looking at myself yesterday and just started crying a little because
this is me - this is my life - and I look so damn good.
And it felt so good to honestly believe it. This was pre-long run - I did 4.75 miles in 53:52. The race is 4.97 miles (8k) and when I registered, I estimated my finish at 65:00. My unofficial goal? A sub-60 finish. I hope to report good news next week!