My positive picture for the week: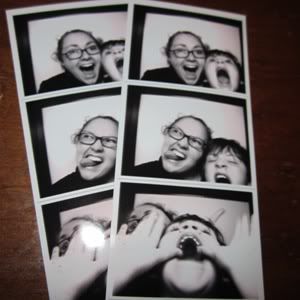 Little brother and me, killing time while Mom shopped. I love this little kid more than anything.
What have you done this past week to help you achieve your goals?
(1) I lost two pounds this week, down to 212. Thirteen pounds to onederland!
(2) I skipped a few days during the week, and as of Saturday, I am committing to 30 days without the scale. This is going to be tough, but it's necessary. I want to divorce myself from my obsession with numbers and focus instead on how I feel and how my clothes fit.
(3) I logged 21 biked miles last week, for a challenge total of 61.5 miles. (28% of goal)
(4) I didn't make the full hour this week - I only did about 18 minutes, actually. My brother used it a lot, so I'm happy about that, but I didn't make my own goal. I wanted to finish out the hour Sunday after my family left, but in a ridiculous turn of events, my brother took BOTH my Wii remotes home with him. So until I get those back, the Wii is useless. I'm hoping I get them back sooner than the nearly five months it took for to return the nunchuck...
(5) I actually knocked out two items on my list this week! I completed #59 (Go out to lunch with my mom) and #64 (Send 25 postcards via
Postcrossing
). I treated my mom to a nice lunch last week, and my 25th postcard was sent off to Russia.
What did you do this past week to make you feel good about yourself?
Yesterday I went for a long run along the lakeshore paths. I didn't worry about distance or time - I just ran. And it was incredible ... exactly what I needed to feel good about myself again after a very hard week.
Fill in the blanks:
The ability to plan and organize comes naturally to me.

The ability to "just go with the flow" does not come naturally to me.

I wish the ability to gracefully adapt to change came naturally to me.
What is your favourite Easter candy? Are you allowing yourself some this year?
My favorite candy for any holiday (or non-holiday, really) is anything with peanut butter, and I have completely avoided Reese's eggs this year - a huge victory. I *did* have chocolate covered Peeps a couple of weeks ago - a dark chocolate one is 120 calories, not fatal, especially compared with peanut butter filled anything!