I don't have a number to report today, because today is Day 7 of my 30 day "no weigh" scale-free challenge. And let me tell you - it's a challenge, alright.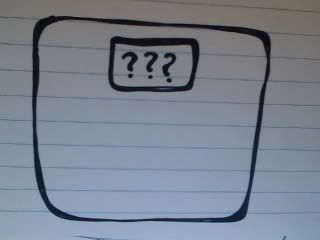 It's weird: for the first time in 272 days, I don't know exactly what I weigh. And that's surprisingly tough.
My scale dependency has definitely improved from when I first started losing weight back in August - I would weigh myself upwards of five times a day, mostly because I was in awe of the results. (Go figure ... you move more, eat less, and eat better, and the numbers drop.) Eventually I got it down to once a day, which is still a lot, but certainly an improvement.
I've been trying to focus on other things this week. Wrapping up my last week of teaching, processing my thoughts on last week, eating light and clean, and really enjoying my workouts. I'm feeling good, and I know I am doing well even if I don't have a number to define that success.
Well, I have one number.
12.
As in, the size jeans I just bought.
They're a little tight. They muffin top like nobody's business. But they zip and snap, and that is a wonderful thing - my 14s are pretty loose, and my work pants a year ago were 28s!
What about you?
What non-scale successes are you celebrating this week?