This week has been full of ups and downs. I'm happy to have some of my family here, and I've had some really great conversations with my mom, especially related to weight loss. But it's been an interesting challenge, trying to balance my routines and my healthy lifestyle with having them around. My mom is the kind of person who will have a profound emotional discussion with you about your eating disorder, then come home with enough sweets from Chinese bakeries to feed a small army.
My original plan was to keep up my routines almost entirely, just a little rescheduled. That fell apart almost immediately - I just can't exercise in the morning. I've made it work, though, and still got to the gym every day since they've been here. In terms of eating, I've been trying to keep a maintenance point of view where I make mostly good decisions but also allow some things I don't typically eat - then get right back on track. The tough part is limiting to one "off-plan" decision while my mother goes from one ethnic neighborhood to the next, having cookies here and sandwiches there. I definitely related to the comment
Caron
left on yesterday's post:
I'm an adult and I make my choices but I'm not strong around so much temptation.
I'm really happy with the fact that for the most part, I eat what I want - the difference being that now I enjoy these things within reason, and I don't keep them regularly in my house. My mom is a take-over-er (it's a word if I say it is) and went grocery shopping as soon as she got here to fill my fridge, yet hasn't cooked anything - so my house is full of triggers and things I usually try to avoid. Multiple kinds of cheese. Bread. Crackers. It's all really dangerous to me. I know better, and I still can't stop myself from mindlessly devouring a whole bag of Goldfish.
I don't want it to sound like I'm totally miserable and that I'll never be able to deal with socially eating with other people ever again - going out to eat wouldn't be a huge issue, it's going out to eat several times a day for a week that gets to be a problem. Again, I'm trying to keep the maintenance point of view and make mostly good decisions but balance less-than-great choices with exercise and lots of water. It's just really interesting being more self-aware - eating like this used to be my life. One year ago, this would have been a dream trip - not only would I be able to eat unlimited junk, but I wouldn't even have to pay for it. And honestly, one year ago, it happened - when the whole family came out for my graduation. It's kind of like a saying I've heard referenced a few times by recovering alcoholics: in the end, nothing costs you more than free drinks.
This week's weigh in has me at 212, a two pound loss for the week. All things considered, I'm pleased - I can show a loss while having my mom around! - but I'm a little disappointed since I saw an even lower number earlier in the week. I'm really looking forward to stability and success once I get back into my routines and regain control of my apartment.
A little bit of a brag: last night I did my run for the
Jelly Bean Virtual 5k
, and I totally killed it:
34:26
.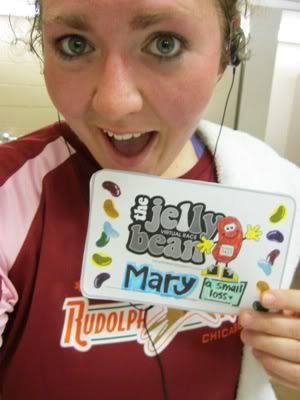 Woo hoo! That's nearly four minutes off my 5k time from January!
What about you?
What do you have to brag about for this week?