I pulled myself together after Monday and threw myself back into life, full speed ahead. Back to loving life and kicking so much butt on my videotaped classroom observation. Back to the gym with incredible workouts. Back to eating well and choosing fewer processed foods and more fruits and veggies. Back to eating less and being strict about calorie counting. And wouldn't you know, I lost 3 pounds this week. I'm down to 214, which is good because after Saturday I was back up to 219 (and 221 after Monday). Two really lousy days, but I recovered, and I'm feeling good about that - in spite of struggles, I am strong enough to bounce back and get right back into the healthy routines that I love and prefer.
Something that I am loving about tracking my food is being able to notice patterns and trends. So, a few visuals from my last week.
Here are the results of my daily weigh-ins (with a blank for Sunday because I did not weigh that day).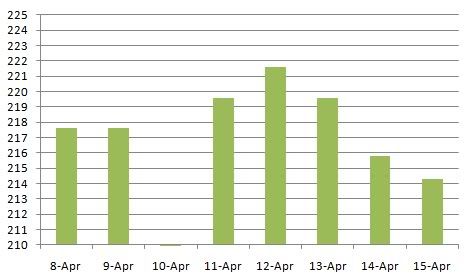 Spike after overeating on Saturday? Yup. Giant spike after Monday's binge? Check. Steady drop after I got back on track? Of course.
Here are my daily calories, including today's projected intake.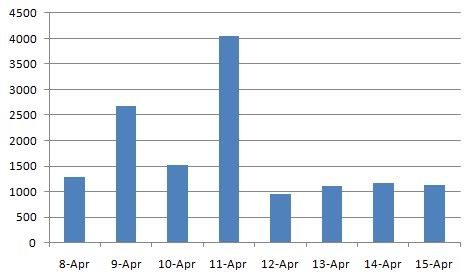 I've taken to planning out all my food for the day right before going to bed - that way I can quickly put together my lunchbox in the morning. It also helps me stay on track because my meals are all planned - I need schedules and plans to work my best, I'm really not great with spontaneity, especially when it comes to cooking. If I come home from the gym and don't know exactly what to make for dinner, that's when mindless snacking starts.
A pattern I noticed is the correlation between water intake and calorie intake.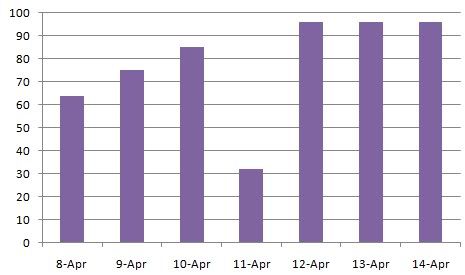 The day of my binge, I barely finished one water bottle. Cleaning out afterwards, it's three a day, about 96 ounces.
So, learning lessons all around. I'm very hopeful about keeping up this good work as I face the next week and my mother/brother visiting. They are driving out here and left Connecticut a few hours ago - they'll get to Ohio today and spend the night visiting my uncle and his family, then be in Chicago Saturday night or Sunday morning, depending on if they want to stay a little longer in Ohio.
I'm both excited and anxious about their being here: can't wait to see them and have some people around, but at the same time, concerned about my eating. My mom called me the other day and asked if there was anything I wanted from Connecticut, and when I reminded her of my Wii nunchuck for the trillionth time, she said no, is there anything I want food-wise from Connecticut. The question bugged me until I remembered that last year when they visited for my MA graduation, I asked for a case of local hot dogs. They brought me two cases, and even though I put them in the freezer, I'd dethaw them and eat them at least five at a time. Next time I am back east, I will have one ... maybe. The thought of demolishing a case of them myself makes me feel a little queasy, to be honest; I'm in the phase right now where thinking about my trigger foods makes me feel gross because the physical feeling of disgust post-binge is still fresh in my mind.
I have a plan for next week to keep myself on track and focused. Definitely keeping up with logging my food, exercise, and water. I've been waking up earlier this week to get ready for temporarily moving my workouts to 6am when the gym opens - I don't have this week off of work so I will need to be on campus until 2pm every day, so I want to make the most of the afternoons with them. The blessing in disguise of not having time off, though, is that most of my mom's food-related things she wants to do will be scheduled for when I am working. I love her very much, but I just can't eat like that every day for a week. There will be a few treats, I am sure - I've decided to try a Weight Watchers-type schedule where I have a certain number of calories per day and then a certain number of "flex calories" for the week to be spent at my discretion. If I only have a few extra calories to work with, I think I will be more likely to choose my treats wisely.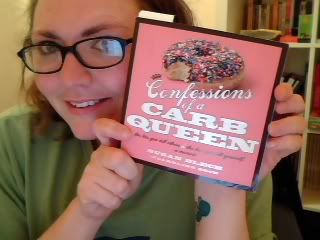 So ... keeping up the water at 96 ounces a day, working out as much as I can, and keeping most of my meals on par with my usual daily work week routine? I can do this!
Something else to help me in the next week: some good reading material! I won
Jess'
book giveaway and just got the book in the mail earlier this week, and I'm a few pages in but already loving it incredibly. I've been doing a lot of reading lately, actually, and I will have posts next week about all that.
What about you?
How was your week? What are you looking forward to this weekend?