When I set out on my journey, I had the idea to lose 210 pounds.
Having started at 345 pounds, that meant I needed to lose more than half my body weight. Nearly two-thirds, in fact. The task seemed impossible, but this time, it felt like I didn't have a choice - I was 23 and realized I was not only not living, but I was dying. If I didn't buckle down and lose weight, I would just get bigger and bigger, and I honestly saw myself dying of a weight-related illness or heart attack before age 30.
If I actually did it this time, if I really stuck with it, I hoped to be at my goal weight in three or four years. It sounded like an awfully long time, and I wasn't sure if I could stick with something for that long. But I had to try. It finally had come to a point where I wanted to get healthier and look better, no matter how long it took.
Now, eight months later, I'm more than halfway through that 210 pound goal.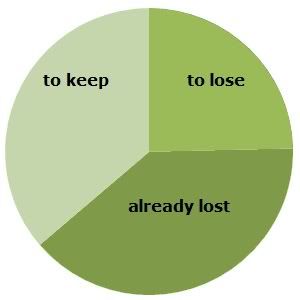 The amount of weight I have lost has almost caught up with the number of pounds I chose for my long-term goal weight.
To be honest, I chose 135 somewhat haphazardly - it was in the middle of my healthy BMI range and ended with a 5. I never thought I'd be successful enough to actually be the weight, so why not choose a perfect number like that?
Lately, though, I've been considering how active I've become. My three-to-four year plan for loss was based on light exercise and counted calories. But as it has turned out, I'm much more active than I thought I would be, and the activities I'm doing to get fit are much more intense and shaping than I planned. Every time I tell someone
I am a runner
, I smile a little, because it's still something unbelievable to me. Less than a year ago, it was uncomfortable for me to walk and get out of bed and shave my legs - this Sunday, I'm running just shy of five miles.
As I lose more weight, I am starting to come to terms with the idea that I'll be done when I feel my best and that the number on the scale is only one way of measuring progress. The other day, a co-worker asked me how many more pounds I wanted to lose; when I said 85, she looked at me strangely, then asked "Well, frankly, where will these 85 pounds come from?" While I definitely still have quite a bit of weight to lose (almost entirely in the belly region), I may need to rethink my goal of 135 - my healthy BMI range is between 119 and 154 pounds, and so I may need to be closer to the upper end of that. I may need to re-evaluate my weight goals to help them sync up with my fitness goals.
I made a meeting with the athletic performance lab at my gym to evaluate what my body fat percentage is and to discuss what my long-term goal weight should actually be, especially considering that I would like to start training for longer races. My specific needs as a runner and athlete are a little different given my history as a formerly super obese person - I still need to lose weight and be in good physical shape, but my body shape and makeup is different from, say, someone who has always been a normal/healthy weight and who also decided to become a runner.
What about you?
How do you measure your progress? BMI? Body fat percentage? Some other way? What exercise/fitness/food decisions have you made so far on your journey that would totally surprise Former You?