Late last week, my cousin Sarah and her boyfriend Marty had my mother, brother, and I over to their apartment for a little catching up (and Wii Monopoly - so much fun). While Sarah gave the grand tour of her place, Marty asked how I was doing; it had been a particularly rough day,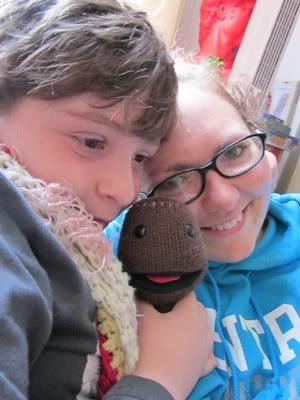 and it took all I had just to whisper that things were not well and not to breakdown entirely in tears.
While playing, we got to talking about some of the things my mother and brother had done so far while out here; they were pretty much all food-related. My mom made light of it, as she always does, joking that I was visibly struggling. Marty's a really level-headed guy, and he noted that of course I would be having problems with the poor eating, I've been working so hard to get as far as I have. She said that she was sorry, but that she's just out here for a visit, so she needs to get all she can before she has to go home - laughing, she made a comment about being a fat girl in a food paradise, and we all pretty much let it go from there.
I used to joke all the time about my size too, because I wasn't comfortable. If I'm able to laugh about it, hopefully people will think that I'm okay the way I am. Walking to the train and seeing my subway pass right by, I used to laugh that I'd just get the next one, because "I don't run unless I'm being chased." There was nothing cute or funny about the way I was treating myself, and there was nothing cute or funny about what my mother said Friday night. It was embarrassing, really. Here is my mother, an adult, someone who ought to know better, making jokes to excuse the fact that her eating is out of control and she's been pushing the habits back on me as I try so desperately to recover.
Somewhat coincidentally, it was exactly one year ago Sunday that I got an e-mail from Sarah that set in motion my committment to get healthy:
Hi Mary my Dear,

I've been thinking about you a lot in the past couple days (in a good way!), and I wanted to reach out (cheesy, I know, sorry).

I just had a conversation with a mentor of mine, who is awesome and wonderful, and she started telling me about her work with Seattle Sutton's, and what has been good, important, challenging, etc. I'm *not* writing this email cause I think you should do that program, but after talking to Cam, I realized that I've never actually asked you how I can support all the work you have done (and are doing) to live a healthy life. Really, being healthy of course isn't just about food, but I we don't often talk about the food part. Not that we should all the time- but I don't want to miss a chance to support all that you do, because you really deserve to succeed in everything (I seriously, seriously mean that).

You are a real visionary, Mary, and you've set up all kinds of systems for your success, and I want to support you in anyway I can. I think I've been a typical [last name] with our eating habits- thinking that it's cute or awesome to 'cheat' on taking care of ourselves. But we know from our family that the cuteness wears off. None of us want to end up like the relatives. I can't even point fingers, it's just a mess, of course- I'm just really glad that you, me and some of the other cousins are taking the steps to be healthier people than the older generation (in lots of ways).

That all being said- the real point is that I love you so much, and I'm really inspired by your creativity, your brilliance, hard work, and real beauty that you bring to life. And honestly, I just want to support you in any way I can, but I haven't done a great job of asking you what that means, so I'm asking now- if there's anything I can do to support your goals to be healthier, please let me know. I'm sorry it took this long for me to just try and listen!

If this is all just insane and offensive, I'm sorry. I just wanted to, again, reach out cause I love you to pieces.

That's all. Love you! <3
Sarah
I've talked exhaustively about how my intentions with obesity were to be invisible - I didn't want to be seen or noticed, because that meant I was safe. I couldn't be hurt. And no one ever said anything to me about my size - at least not family or friends. Strangers have always been more than willing to yell their thoughts and opinions out car windows or mutter them under their breath on buses and trains, but my best friends and family never once said anything about my having a serious problem. When Sarah sent me this, it was like the spell was broken. Someone noticed. Someone saw that I was unhealthy and finally called me out on it.
Major breakthrough I've had recently:
I have a lot of resentment towards my parents for never saying anything to me about my weight.
I always felt a little bothered by it, but recently I've realized it makes me deeply upset, frustrated, even mad and angry ... and to have my mother here and encouraging off-plan eating was infuriating. She was on the phone with my father mid-week talking about the trip so far, and I took notes:
"If you could see your daughter, even smaller than she was before - she's such an inspiration. She's so petite now, it's like, 'Oh my god, you're so skinny!' Her wrists are so petite! You'll be shocked when you see the pictures."
It made me so mad. How can you see how I look, the results of how hard I've been working with both exercise and controlling my eating, and still bring the things I have told you are triggers into my kitchen?