Today is not just any old Sunday. Today is the birthday of someone I love very, very much: Dan, my baby brother!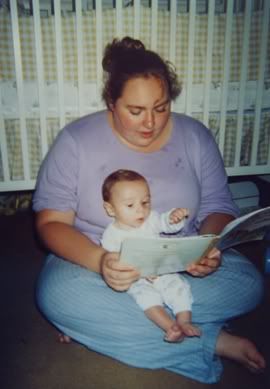 Though, admittedly, he is not a baby anymore.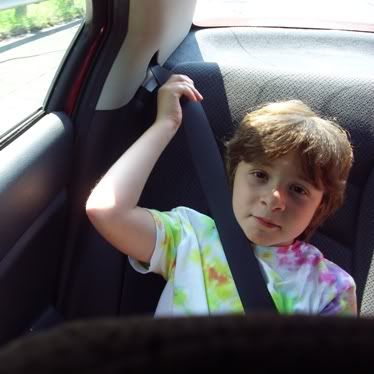 Today, he is ten years old. Double digits!
I remember the day he was born, getting the phone call early in the morning and heading to the hospital. He was sick, so my sisters and I had to look through the window of the nursery and try and figure out which one was our new baby brother. A few hours later, a nurse wheeled him in and we got to hold him for the first time; until that moment when I first held that little nugget in my arms, I had never known such a love. So pure, whole, joyful.
I'm fourteen years older than Dan, which has both its perks and its drawbacks. I get to be the awesome older sister who sends him care packages of books, art supplies, and little odds and ends. I also get to be the one who occasionally overrides the things Mom says no to. (Like a couple summers ago when I dyed his hair electic blue, just so he could feel like the coolest kid ever.)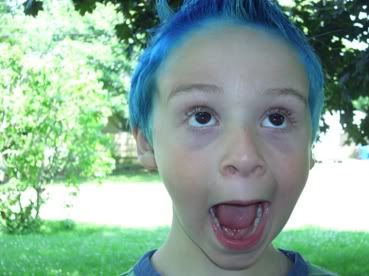 But at the same time, it's really tough. I left home for college when he was three, so I've been physically present only sporadically for most of his life. I miss him incredibly when I'm not around, because even though we talk frequently on the phone or over video chat, it's not the same as grabbing the kid and giving him a giant hug and a kiss whenever you feel like.
I love all my siblings, but I'm partial to Dan. Yes, he's young and cute, but that's not all. Growing up with two sisters, there were a lot of ridiculous fights, and since we're all girls with insecurities, we knew exactly what to say to hurt each other the most. Without fail, every argument contained cries about my weight, and despite always trying to act tough and unaffected, it definitely broke my heart. Other people who don't know me can say whatever they want about my body - but these are my sisters.
Of course, I was also calling Lisa stupid and Katie a wimp, which contributed to their issues as well ... the fact that the three of us are on speaking terms at all, let alone best friends, is remarkable. As you grow up, those memories mellow a little - I know that they love me (and they know that I love them) and that unfortunately, kids aren't always aware of how much words can hurt.
The point, though, is that I don't have memories like that with Dan. Even though we occasionally fight (there's an entirely different set of issues with siblings that have huge age gaps - mostly frustration due to the different views of a little kid and an adult non-parent), his comebacks have never referenced my weight. I'm a jerk, I'm unfair, I'm mean, and I just don't understand - but I'm never a big, fat, lazy slob. Even at my biggest, the kid never said anything mean about my size. He just loves - wholly and without judgment. My body and whatever flaws I see in it have no bearing on his love for me.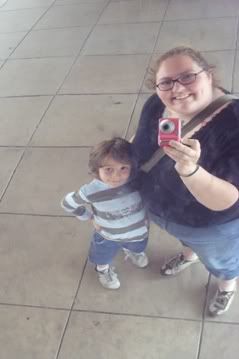 And you know, the greatest feeling in the world is knowing that you are someone's hero. Perhaps it's because of the physical distance between us - I'm almost foreign and exotic - but the kid idolizes me. He gave an adorable speech after my Masters graduation that ended with him in tears, hugging me because he was "just so proud." We were chatting the other day and he was telling me that when he grows up, he wants to move to Chicago and live with me -
"Can I be a scientist in Chicago?"
*sigh* So adorable.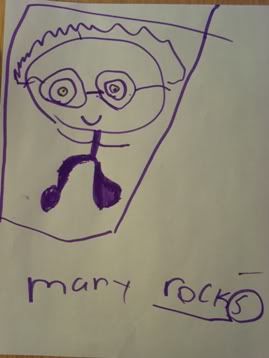 He'll be here in two weeks with our mother, and all the stress and anxiety of preparing for a visit mid-semester will melt away when he gives me that first big hug after not seeing each other for four months.
And on that note, my recipe for the week: one from the Biggest Loser Family Cookbook! It came with the Wii Fit bundle my parents got me for Christmas a couple years ago, and since I am preparing for this family visit, I've been looking for recipes to make that would be pleasing to everyone - especially for snacks. I made edamammus, a bean dip that's the consistency of hummus but which uses Greek yogurt instead of tahini and edamame instead of chick peas.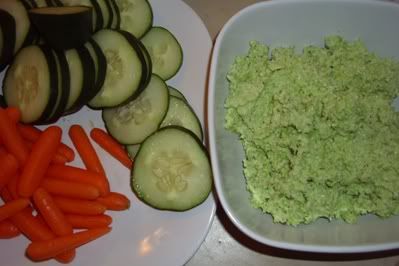 8 ounces edamame, cooked and shelled
2 1/2 tbsp lemon juice
2 cloves garlic
1 tbsp fresh parsley
1 tsp olive oil [I skipped this]
3 tbsp plain non-fat Greek yogurt
In the bowl of a food processor fitted with the chopping blade, combine the edamame, lemon juice, garlic, and parsley. Process until the mixture is paste-like and the edamame is finely chopped, scraping down the sides of the bowl as necessary. With the food processor on, slowly drizzle the olive oil through the top until well mixed. Add the yogurt and process just until combined. Serve immediately or refrigerate in an airtight container for up to 3 days.

Makes 5 (about 1/4 cup) servings.
Also, each serving is only about 52 calories, which is awesome. I thought it was totally delicious, especially with cucumber slices, and I'll definitely try making it when Mom and Dan are out here - the kid is a little picky but gets more adventurous with eating if I say that something is good.