If the problem isn't hunger, then the solution isn't food.
Unknown
I really want to post a glowing, post-race recap. But to be honest, I'm pretty depressed right now. I thought about organizing substitute teachers for today, but that would be counterproductive - I need to get out of the house, I need to move, I can't sit around here and be mopey.
Every day I wake up with the best of intentions, but lately, I've been slipping, and finally yesterday, I fell. Even now, I'm sitting here asking myself,
What happened?
For seemingly no reason at all, I woke up in a stinking blue funk that I couldn't shake all day. The accomplishments of the day before were forgotten, and I spent all day either sleeping or binge eating (calories totaling to the tune of nearly three and a half times what I aim to eat in a day). This was not overeating - this was self-harming. I wasn't hungry, I wanted to hurt.
Why?
I don't teach on Mondays, but I usually head to the office anyway and put in a full day of work so I have time to myself at night and on the weekends. I decided to head in a little late and run to Target first since I needed a few things for around the house, plus I made a personal goal to get back in the pool this week, so I needed a bathing suit. I totally loved my suit from last summer - plain black, with a little skirt to cover the tops of my thighs, which I have always been self-conscious about. But that was a size 26/28, and it was barely covering me anymore. When I bought it, I needed my sister to help me get it on because it was really too small, but it was the biggest size Target had.
This time around, I found basically the same suit again - except this is a 16.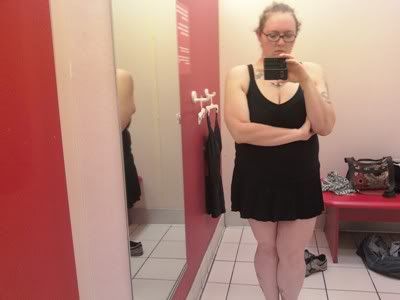 But even that couldn't make me smile. I came home, sobbed, ate until I felt numb, took a nap, and then ate some more. I thought about going to the gym about forty times, but I couldn't stop crying long enough to seriously consider it. Sobbing in the pool just wouldn't be a productive workout. So I sat on the couch, then laid on the couch, then laid in my bed, and before you know it, it's dark out.
I know it's silly and ridiculous, and I know that right now I just need to leave my pity party - put on my big girl pants, get out there, and do the right thing. But I can't shake
what happened on Saturday
. Even with the dozens of incredible messages of support and love I have received, I feel defeated. I don't feel good about my pictures from the race on Sunday - I was just starting to get ahead and recognize/love my current, smaller self, and now I feel almost completely set back.
For example, this is a picture that was taken post-race: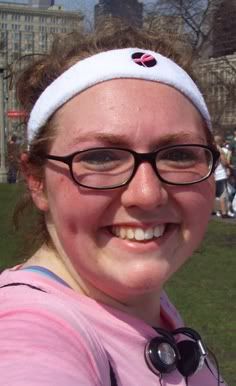 This girl ought to be thrilled. She's glowing. She just ran the heck out of nearly five miles of the Chicago Loop and downtown. Said she would do it in 65:00, wanted to do it in under 60:00, did it in 57:18 - and that was in 70-80º weather. Less than a year ago, walking up the flight of stairs to her apartment had her winded.
Right now, I can't see happiness in this picture. I'm smiling, but I'm not truly happy. What's to celebrate? Getting one good thing done is nice and all, great job, whatever - there's still so much work to be done.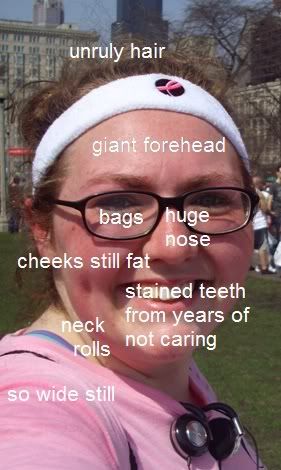 After finishing the race, my first thought was that I wish I could sit down with the girl from my before picture and tell her that the future holds nothing but good things for her. One year and three days after passing her MA exams, she will be running nearly five miles in a huge race. This is something she is strong enough to accomplish, something she is capable enough of committing to. Sitting on the couch yesterday, stuffing myself with snack after snack, I could see myself gaining back every ounce that I've lost. And that's something I never wanted to understand.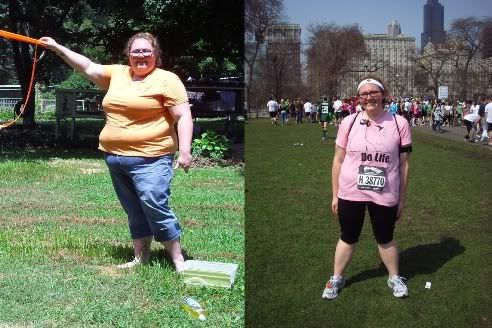 I love running. I love eating well. I love feeling healthy. And I love the fact that my self-esteem was at an all-time high - up until about noon on Saturday. I can't stop now - I love my new life and the new me too much to throw in the towel. I know I am doing fantastic things - 128 lost pounds equals 448,000 calories exercised off or not eaten. I can't let a fraction of a second by some thoughtless jerk devalue months and months of sweat and willpower. I've worked too hard for that.
Losing weight is a physical change. The only problem it solves is carrying around excess body weight. It's not a cure-all. It's not a magic potion that makes all of your problems go away. And sometimes, even I forget that. Everything starts going so well - I count my calories, I exercise like a fiend, I drink tons of water, and the numbers on the scale keep dropping - and it's easy to forget that physical weight isn't the only issue I need to be working on here.
So, the bad news is, I binged, and I'm feeling pretty lousy today in the aftermath - both physically and emotionally. But the good news is, I woke up today. And once again, I have great intentions, and a plan - I'm going to make today the best that it can be. Every single bite from yesterday was logged, so like it or not, there's a whole page in my journal full of the damage. And like
my last binge
, I didn't order takeout or eat anything that wasn't already in my house, so there are small bright spots even in this dark time. I'm going to work my way through this and get back on track, starting right now. There is no other choice.