There are so many ways I can approach discussing my mother's visit. The easiest for me to personally make sense of, I guess, is to start with the tough stuff, then ease into many good things that happened.
Before we get to this particular week, I think addressing my relationship with my mother is pretty important. For a few years after my parents' divorce, I did not see or speak with her at all. After separating from my father, my mother decided to throw herself full-force back into life, going out with her friends, drinking a lot, and dating. Eventually, it became easier to stay away than to deal with it, and since I had the choice of another home to escape to, that's what I did. It was a very difficult time to live through, and for that reason, it is absolutely never spoken of.
My mother married my father when she was in her early 20s, so I can understand wanting to have some of the experiences she missed out on by choosing to be a young wife and mother. As her child, though, and at barely 12 years old, I was really hurting - it was hard enough to now have a broken home and two separate and completely new lifestyles to get used to, but to see her dating so soon afterwards was really painful. Neither of my parents were drinkers, but now Mom was drinking in excess. She wore too much eye makeup and always had her hair colored and styled - a sharp contrast to the quiet folk artist mother we'd grown up with, always in jumpers. She'd introduce us to her boyfriends and get mad when we tried to tell her how much it bothered us to have to meet these guys.
My mom had always been pretty quiet, something I later learned was not necessarily her demeanor but the result of a deep depression. Being married to my father was a terrible situation for her - they were great friends, and still are now as they live together, but as a married couple, it just didn't work. The severe lows we were accustomed to seeing were now replaced with extreme manic highs; that, matched with her frequent drinking and the fact that I was a teenage girl, meant that we butted heads a lot.
There's one night that I still remember quite vividly, where our arguing came to an apex. I can't remember what the fight was about, just that I ended up shoved into a corner in the kitchen, then thrown onto the floor. She straddled my stomach and held my hands down over my head; leaning in, she whispered:
I wish I'd aborted you when I had the chance.
That was the last time I saw her before court-mandated mediation and therapy. I moved in with my father and his parents, fell deep into binge eating, and gained a hundred pounds between sixth and eighth grade. She kept up her new lifestyle, and one day during our therapy session, she told me that she was pregnant.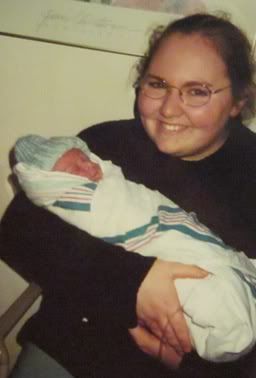 My thoughts were only that the punishment fit the crime, and I still stayed away. There was so much anger, towards both her and this baby. The therapy sessions stopped, and I didn't see her again until the day Dan was born.
I'm not sure what happened that day, but seeing this sick little baby through the nursery window tore down the wall we'd created between us. There were tears, apologies, and promises to make things better and new. And we never spoke of those years again.
I didn't talk about this at all with my mom while she was out here, but I will have to address it in the letter I write her this week. As I try to hash out the causes of my emotional binge eating and the issues I have with food, I keep going back to this period of time when it all seemed to start.
My family is very much a group of avoiders: we suffered and struggled through that time, but it's easier to pretend that it never happened; we all have problems with weight, but it's easier to pretend that we don't and carry on eating like garbage. I think part of the difficulty of the past week, then, comes from the fact that I am actively confronting my issues and trying to work through them. I don't think my mom necessarily feels threatened by it, but perhaps simply a little afraid - fearful of having to think about the way she was, the way I was, the things that were said and done ... because again, it's easier to forget about it and move on than to talk about the issues and try to work through them.