Tomorrow is going to be a big day for me.
Yesterday was a busy day, with preliminary preparations to be made.
Like going down to Navy Pier to pick up my race bib and tech shirt.
Over 40,000 runners.
My swag bag. I'm so completely excited!
Today will be another busy day. There's a race playlist to be made, sports bras to wash, a hairdo to figure out, and a delicious dinner to prepare in my kitchen with Lorelei (recipe tomorrow! Here's to hoping it isn't a disaster!).
Something I am
NOT
excited about?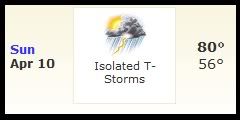 80º F?! Or, 27º C?! Really, Chicago? Of all the days to warm up, you not only pick this one, but you overdo it. Yesterday when I was leaving the gym, I could see my breath. *sigh*
I've never ran outside in that kind of heat. I got capri running pants a couple months back thinking it would be only slightly warmer in Chicago in April than it was in Connecticut in January at my first 5k. (The ones I wear in my gym mirror pics - side note, love those pants. Love my legs in those pants. Want to wear them all the time.) So, I bought some shorter pants - not quite shorts, but above the knee. The clothes aren't really my major concern, though - it's just running in that heat. Most of my runs are indoors so I'm used to it being warmer than outside, but not 80º!
I'm also a little nervous about running in the rain. First, because I have also never ran in the rain before. And second, because I wear my iPod in an armband and I don't want to destroy it (or get electrocuted), so if it's really bad out, I might not bring my iPod. Which means running for an hour or so in relative silence. There will be all the other runners and the spectators, so it will be far from quiet around me. But inside my head? Just me, and my thoughts. And that might be harder to deal with than the heat. I'm pretty dependent on my playlists to keep me going, to push me harder, to help keep me focused.
Any advice?
Stay hydrated ... check.
Wear shorter pants and your adorable short-sleeve pink
Do Life
shirt ... check.
Don't get too scared of spending an hour running on the streets of Chicago, taking in the sights, enjoying the experience, and being amazing without a premade rock 'n' roll soundtrack ... check.
What else?