Yesterday morning, I couldn't decide if I wanted a low-fat chocolate muffin or a cup of blueberry Chobani for breakfast. So, I went for both - I smeared some yogurt on top of the muffin like a cupcake and went to town. Amazing.
I then posted a ridiculous picture of me enjoying it on Twitter, and the nice folks at Chobani loved it and put it on their Facebook fan page!
How cool is that?! Those muffins were a recipe I made
a few weeks ago
, and I love them - I froze them all up and I take one out of the freezer the night before so it's thawed and delicious for the morning. Total new recipe success, all thanks to
Ellen
, who originally posted it.
That said, I really need to branch out with my recipes. Lately it's mostly been either Italian or some sort of Italian-inspired meals. But I can't help it! This is the kind of stuff I grew up eating all the time, so I tend to default to it ... and it's comforting to know that there are healthier ways to make many of the things I enjoy.
This week, I wanted the comfort of a bowl of spaghetti and a meaty tomato sauce, but I also wanted to keep it lower in carbs if possible - I find that having my carbs mostly in the beginning of the day works out best for me. I remembered seeing a recipe somewhere where someone had taken a zucchini, sliced it into ribbons, and served it like pasta. So, that's what I did - sort of. I used the large shred side of the cheese grater instead of the mandoline slicer.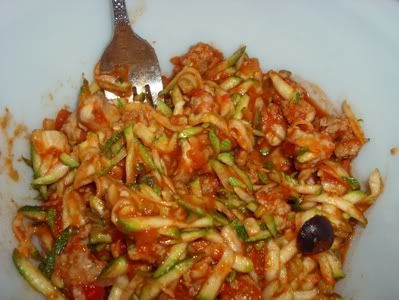 I love how colorful it is!
I cooked up a quarter pound of lean ground turkey, then added some sliced fresh mushrooms and sliced olives. I added some spaghetti sauce and let it all simmer for a few minutes while I shredded up a couple of medium sized zucchini. I added the shreds and cooked it all for only about a minute or two - you don't want the zucchini to get overcooked and soggy, just a little warmed up.
Unbelievably simple, incredibly delicious, and totally good for you ... three things I love in a meal.
For next week, I'm imposing a few rules for myself: no pasta or pasta substitutes, no tomato sauce, no green peppers. I've had too many variations on the same themes!
Any suggestions for new recipes?