My picture for the week: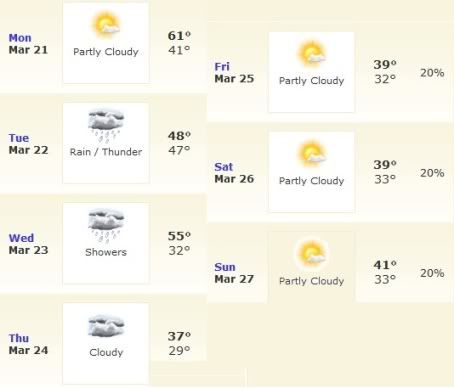 Spring break weather isn't looking great - not necessarily a bad thing, though, since I am committed to doing some intense spring cleaning this week. Today should be nice, so I am going to the park to grade papers and exams and enjoy the sunshine before it disappears from Chicago for a few days. Luckily, the weather report for St. Louis is still looking gorgeous for my two days, so I'm very excited about that!
What have you done this past week to help achieve your goals?
(2) Another 4.5 mile run yesterday - I usually do my long run on Sunday mornings but I was feeling incredibly lazy all day, so I ended up going in the afternoon. And as soon as I start to move, I remember how good it feels and I wonder what took me so long to get there. I maintained a 12:00 pace the whole time again, so 54:00 for 4.5 miles. I'll take it!
(4) Good teaching last week, but without a doubt, both the students and I are definitely ready for Spring Break. Then, just five more weeks until the end of the semester!
(5) I bought some spiral-bound index cards to work on goal #78 (Memorize all the states' capitals.) I used to know them all when I was a kid (countries, too!). I wrote them all out, then tossed it into my purse ... I figure it's a good thing to pass the time on buses and trains. I was surprised at how many I remembered, which is promising.
(6) I went to the Field Museum last Monday! Completely wonderful.
(9) This week's gorgeous thing: a foot soak. Once in a while, it's just what you need to relax - some hot water, nice bath salts, and just sitting and de-stressing.
With one week left, what is your plan?
I need to hit up one more museum - and try to go to the opera. Hopefully I get a good deal in my e-mail this week. I'd also like to make more art since I only made one tiny thing this whole winter!
What was the highlight of your week?
The feeling of "oh yes, finally, vacation!" from Friday afternoon was nice. And booking my trip was another really good moment. But I think yesterday's run was the best - for the past few distances, I've been able to do my first long run at a new distance but not the second. So to do 4.5 two weeks in a row was great - I'm *so* ready for the Shuffle! Only three more weeks!
Did you have a down point? If so, how did you push past it?
Getting sick again put a damper on the beginning of the week, and yesterday morning pre-run was tough - I was very snack-y and ate more than I would have if I had ran in the morning like I usually do. I need to be extra vigilant this week with my eating since I won't have my usual routines.
What's your favourite television show from the past? Presently?
I'm not really a big television watcher - we didn't watch much growing up, and I definitely prefer movies to TV. That said, I own every season of "The Golden Girls" on DVD. I used to watch "30 Rock" but then the plots started to frustrate me. I totally hate reality TV. If they made DVDs of old episodes of "Jeopardy," I would likely obsessively collect those, too.