My picture for the week: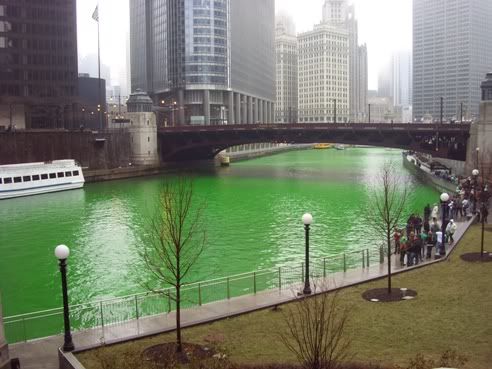 Don't adjust your screens!
Every year for St. Patrick's Day, the Chicago River gets dyed bright green. I went downtown this year to take my annual photo from the Dearborn bridge, but I must have missed it, either too early or too late. This was taken last year, though I bet this year's would have been identical - the weather was totally yucky on Saturday.
What have you done this past week to help you achieve your goals?
(2) Long run of 4.5 miles yesterday - total success. Did it in 54:00 - 12 minute miles the whole time. The race is four weeks from yesterday, and I'm feeling really good about it!
(4) My teaching was pretty good last week - my students are studying comedy, so we watched a really great French film that they all loved and had really great discussions about. I love when it all comes together for them!
(5) I sent more Postcrossing postcards! I've also started learning how to say "thank you" in the languages of the people whose postcards I receive, which is goal #96.
(6) Today I am going to the Field Museum for their Free Day. I totally forgot I went to the Art Institute the first week of the challenge, so after this, I'll only need one more museum to finish this goal.
(7) I bought some new bras, and they finished off the part of my tax money that I set aside for clothes. My chest is (unfortunately) shrinking - I knew it would happen, but I didn't want to believe it. My bras last summer were 46DDD, the ones I bought at Christmas were 44DDD, and the ones I got Friday were 42DDD. So at least there's some consistency.
(9) When I bought the bras, I tried on some fancy dresses I had no intention of buying and I took some lovely pictures of myself in the dressing room. It felt nice to dress up and look lovely, even if the dresses aren't in my budget right now.
There are two weeks left in this challenge – what goals are you making priority?
I have to get to the opera! Next week is Spring Break and I'm hoping for a good deal during that week - they're doing "Carmen" right now, and I would love to see it! Last year during Spring Break, my sister Katie and I went to see "The Marriage of Figaro," and it was unbelievably good.
Many people are on or heading into Spring Break right now, do you find it easier or harder to stay on track when your routine disappears?
I try to stay as busy as possible so I don't stray too far from my usual patterns. Winter break was tough because it was a month away from my usual routine, but this will just be a week - I can handle this!
Tell us something positive about this challenge. Could be something that happened to you, you did, you realized, etc.
My #1 goal was to achieve my 100 pound weight loss - and I'm still sort of in awe over making it. When someone asks how much weight you've lost and you can say a number over 100 ... it's an interesting feeling. It makes me flashback over the journey thus far and how much sweat and tears had to go into those first hundred pounds - and that gives me strength to help me work towards the next hundred!
The clocks sprung forward this weekend, does the time change mess you up or do you just go on like nothing happened?
My former Italian professor shared this wisdom this morning:
"We lose an hour of sleep but who needs to sleep when there's so much to do and sunshine and spring and all those good things are on the way?"
Love her positivity, and love sunshine. I would love both these days,
in quantità
!