One of my favorite English words - and one of my all-time favorite feelings - is "wanderlust." I've studied a few languages, and I think only English truly captures the intensity of the longing ... though I do like the Spanish expression (which includes the verb for "to know," in a sense of to be familiar with) and the German word (which is like a positive antonym for homesickness). I think the
-lust
part is what gets me - it's not just that you'd like to get away, but that you're mentally and physically aching to do so.
I am so unbelievably glad that I decided to take this little trip. It was just an overnight, but I feel so completely refreshed and ready to take on the upcoming stresses in my life: the last few weeks of the semester, a week-long visit from my mother and brother, running my first 8k race, and meeting my next big weight loss goal by getting into onederland. Some good stress, some bad, but all things to anticipate and prepare for.
It was freezing and gray when I left Chicago on Wednesday morning. As the train headed toward St. Louis, the sun peeked out and it got warmer and warmer. I didn't have a seatmate, so I scooted over to the aisle seat halfway there to avoid the awkward through-the-window sunburn I always manage to get on my adventures.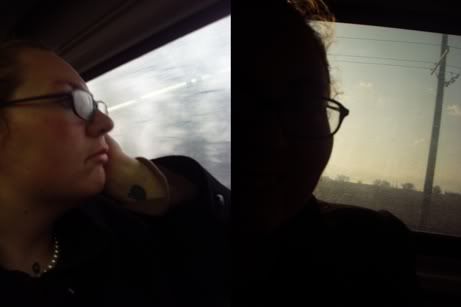 Considering I was only there for one full day, there was a lot on my to-do list, and I'm really pleased that I got to it all, even if I had to rearrange my itinerary a bit. I saw the arch and a few parks downtown, did a factory tour at Anheuser-Busch (free beer = yum), went to the craziest museum, and visited the botanical garden.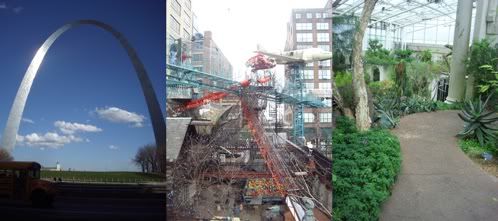 I tackled one of my biggest recent fears and ate in restaurants without having a panic attack over not being in control of the food preparation! I looked up vegetarian/health-conscious restaurants before leaving, and while one of them turned out to be a bust, I improvised and found a place nearby that offered healthier alternatives (and also listed calories on their menu - score!); breakfast wasn't ideal but it was part of the hotel experience, and it reminded me of being back in college. A Mexican salad with grilled chicken, hotel breakfast (I skipped the French toast slice, which didn't appeal to me once it got to my table, and I grabbed a banana instead ... plus one for the road), and a very delicious Cuban sandwich.

And, as I had planned for, there were treats. A banana cupcake with chocolate inside and peanut butter frosting, a vegan brownie with walnuts, and a vegan apple cranberry oatmeal cookie. "Vegan"
does not
mean fat-free, sugar-free, or calorie-free - but it
does
mean that I feel a little better about eating it than some mass-produced Hostess product.

(This week, I'll have another No Treats Week to recover a bit. Totally worth it.)
One of the best parts of the trip was the glorious weather, which I soaked up every second of. Wednesday was absolutely perfect - warm but not humid, and windy enough that it didn't feel too hot. I took lots of pictures of myself since this is my first vacation as a smaller person and I wanted some memories of how I am at this moment.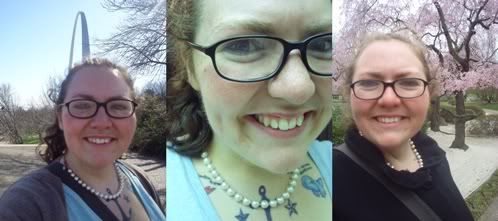 And I marveled at the fact that all of St. Louis was new to me, and that I was new to all of St. Louis. The next time I go to Paris, there will be comparisons left and right - how hard the stairs at the Arc de Triomphe were last time, how tired my feet were after the first time I walked the Palace at Versailles or the Catacombes - but I've never visited St. Louis before, so I have no old memories of how it used to be when I was very big. It was like writing on the first page of a new book, the story of the adventures of my new life.
And there were NSVs all over the place. Like jumping on a bed and taking a bath for the first time since I was a little kid.

Or being able to wrap a towel around me that isn't a bath sheet. Or buying a souvenir t-shirt in a size that doesn't have an "X" out front.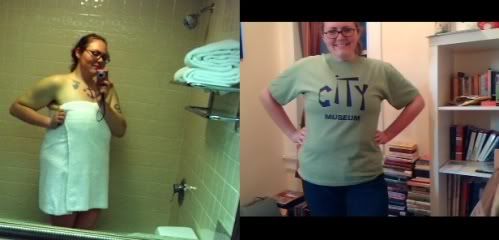 I'm already thinking about possibilities for my next adventure - something this summer, once I've heard about my job situation for the fall and the stresses of the next five weeks have passed. And I'm unbelievably happy that going out and seeing the world, even just a little bit at a time, is something I'm able to do and that I can fully enjoy thanks to all the hard work I've put in over the last eight months.
Some terrific inspiration from a sculpture in one of the parks in downtown St. Louis: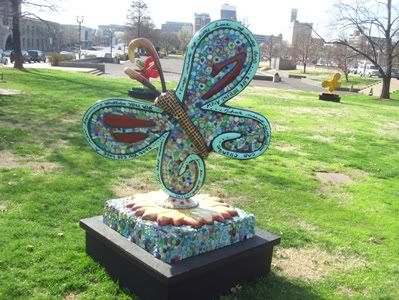 Every minute of every hour of every day ... life begins anew ... that means everything can change in an instant ... this also means that you can have a new beginning whenever you want.