Without reading too far into the comparison, I have to say that I very much enjoy being a passenger. I like taking in the scenery and looking for landmarks - I tend to give overly precise (but amazing) directions because I notice all the details, no matter how small, and will include them when people ask how to get somewhere. I don't have a drivers license ... I've always walked places (or, since moving to a city, taken public transit) and I'm not sure I would even be a good driver because I am so easily distracted by everything passing outside my window.
As my train pulled out of Union Station last Wednesday morning, I immediately went into passenger mode ... I looked out the window, took it all in, and my thoughts started going a million miles an hour. Within a minute, my first big thought - we were traveling through the South Loop of Chicago and on the right was the Pacific Garden Mission, a brick building with a giant neon-lit cross hanging out front that reads "Christ died for our sins" and "Jesus saves." Immediately, I was overwhelmed with a strong childhood memory of my father.
When I was a kid, my dad worked all the time. He always had at least two jobs, working days, nights, and weekends to keep a roof over our heads and food in our bellies.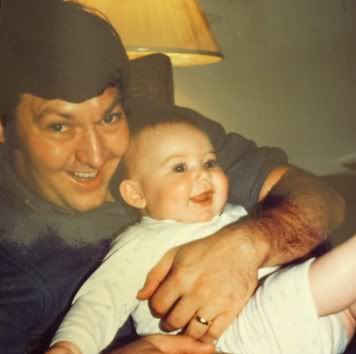 As a kid, I didn't really notice that he wasn't there a lot - I knew he was always home in time to kiss us goodnight, even if I didn't realize that more often than not, it was just a brief stop in between jobs.
One of his jobs was as a lab courier - bringing x-rays or lab samples from doctors offices to the hospital or the local clinic on weekends and some weeknights. Sometimes he would have a little time in between stops on his route, and he would stop off at home and pick up one of my sisters or me and bring us with him. Occasionally he'd grab all three of us, and we'd spend Saturday in the back of a van, eating Burger King french fries and ice cream cones from McDonald's and playing games while Dad drove from one clinic to the next. It wasn't particularly fun, but it was nice being with Dad, and it certainly beat sitting home alone, especially once our parents were divorced and I was living just at Dad's ... it was a nice break from hanging around with my elderly grandparents.
On weeknights, the last run from the hospital in Middletown to the clinic in Essex was about half an hour's drive, but the labs wanted him on the road for a full hour, just in case anything else needed to be picked up last minute. (Dating myself a little, he totally had a beeper in case of emergencies. My sisters and I always wanted to play with it.) So to kill time, we'd park the car on the side of the highway on-ramp about halfway to the clinic and listen to "Unshackled!" - a radio show broadcast by the Pacific Garden Mission. We had to park the car if we wanted to hear the whole show because the station started to crackle and fade past a certain exit.
If you've never heard of "Unshackled!" it's definitely an interesting program. Recorded just like old time radio shows, it's basically a dramatic retelling of the life stories of people whose souls have been saved through their discovery of faith and their belief in God. I remember one of the first times that I listened when my dad told me that one of my uncles had his story on the show, and I wasn't sure what to make of it. My sisters and I were not raised in a very religious household - my parents both had pretty bad experiences with organized religion - but most of our relatives were born again Christians. That wasn't really the surprising part of tuning in, I guess. I think it was more the fact that this was something my dad would listen to. My dad, who liked Car Talk, live radio broadcasts of sports games, and had programmed in all the classic rock stations ... he would sit there and listen to these people talk about being saved and how their lives changed because of their relationship with Jesus Christ.
The sun was usually setting when we pulled over the car, and it was dark by the time we got going again. Over ten years removed from these nights, I now wish I had looked around a little more.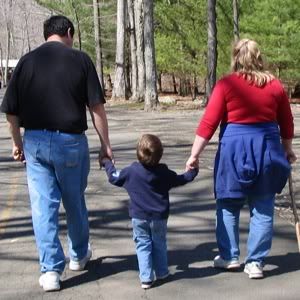 I remember what the car smelled like (awful orange air freshener) and how tall the rocks on the side of the on-ramp were. But I can't really picture my dad.
It's becoming very hard to remember what my dad was like before his heart attack. (Before his
first
heart attack, I guess I should say now.) It's strange, because it hasn't even been five years - we had years and years before then of family walks and backyard baseball games and even simple things like trips to the mall or the grocery store. Now, it's hard to recall what it was like to walk around normally with Dad. It seems like all those memories have been replaced with images of the way things are now - he walks much slower, if at all, and always with a cane. This is our new reality, and it has just about completely overtaken our notion of the way things used to be.
I love my dad more than anything, and he inspires so much of what I do: career-wise, in my personal life, and in terms of my weight loss. I want to be the successful teacher he told me I'd grow up to be. I want to meet a boy who makes me laugh like my dad does - and who makes me feel as safe and as cared for as my dad does. And I want to live the healthiest life possible so that I don't end up in the same situation medically.